Hilversum is home to most of the Netherlands' major TV and radio broadcasters. Following the completion of its latest facility, it is has a striking €11.8m concert building, with sound and lighting systems from sister Ampco Flashlight Group companies TM Audio and Lightco.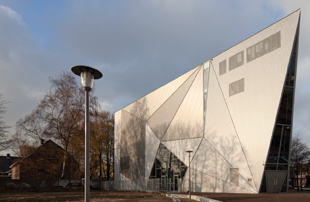 From the oustide, De Vorstin Poppodium – The Queen Pop Stage – looks like a space-age remodeling of Manhattan's Flatiron Building. It was designed by Architecten Cie, and has no internal right-angles – good news for the acoustics inside. With an audio and lighting installation by Ampco Flashlight Group companies TM Audio and Lightco, the venue is intended primarily for pop and rock bands, and is equipped with plug-n-play outside broadcast facilities.
Iside, the 850 standing capacity Main Hall alternatively provides retractable seating for 260 people, while the smaller Podium Café accommodates 300.
The latter displays a sense of visual humour with a flown mobile made up of a jumble of old hi-fi loudspeakers of various pedigrees. This is purely for show, because in either corner of the small stage area, designed for small bands, solo performances, jazz and the like, is a flown pair of Martin Audio W8LM mini line arrays with downfills either side and a WSX18 subwoofer.
Martin LE1200 or LE1500 floor monitors can be provided from De Vorstin's equipment store as required, while the mixing console chosen for this multi-purpose space is a DiGiCo SD8.
Upstairs, the Main Hall shares the asymmetrical design approach with a balcony running around three sides. A wide stage 2m high is backed by rack rooms for the Martin Audio amplifiers, XTA signal processing and an Allen & Heath iDR-8 audio distribution system.
TM Audio project manager Reinier Bruijns said: 'The tender spec called for 105dB for a pop system, and the sub-specification was 120dB (C) which is easily reachable with these subwoofers. We won the contract after a loudspeaker system shoot-out, and the De Vorstin technical team, led by head technician Jeroen Gerits, chose this. We co-designed the final system with Martin Audio.'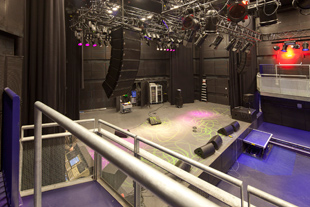 The Main Hall's PA is flown high and wide and comprises seven W8LM cabinets a side, while on stage is a compact ground stack either side that provides near stage in fills in the shape of Martin Audio's new W8VDQ cabinets, each mounted atop a Martin Audio ASX subwoofer.
Flying hardware is a TM Audio custom fixed installation frame, saving space and weight compared to the standard touring version. Further fills are served by Martin H3T+ and S218 compact subwoofers. Stage monitoring is all via Martin LE1200 wedges.
Two DiGiCo SD8 consoles serve the Main Hall, with a Midas Heritage 2000 as an analogue option. To complement this flexibility TM Audio installed both digital and analogue cabling systems. Easily accessible OB links, including both MADI and analogue tie lines, make life easy for outside broadcast crews.
The microphone complement includes AKG 414s, a Neumann KM-184 stereo pair, Sennheiser MD 421-U-4s, E 904s and E906s, Shure BETA 52s, SM57s, Beta 57As, SM58-LCEs, and Beta 58As. DJs are catered for in the shape of a Pioneer DJM-800 DJ Mixer and CDJ-1000 MK3 Digital Deck plus an Allen & Heath XONE-92 DJ mixer. Intercom is an ATS-NV08043 system with beacons and beltpacks.