China's summer festival scene has seen new Meyer Sound Leo Family systems deployed by the Beijing-based Stage Arts Groups (SAG) on a series of large-scale events. Among them, the Music Technology and Art Festival (MTA), staged at the Tianmo Nature Scenic Area northwest of Beijing drew more than 50,000 over three days in late June to see top Chinese acts as well as international artists spanning the musical spectrum from folk to pop-rock, hip-hop and pop-punk.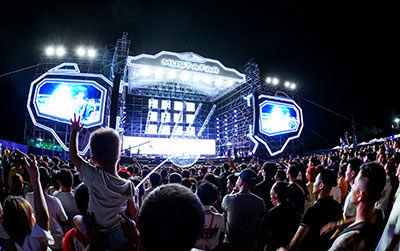 To accommodate the eclectic mix at the main stage, SAG deployed a system based on dual main hangs of 16 Leo-M line array loudspeakers, each with two underhung Lyon-W loudspeakers. Twelve Leopard loudspeakers supplied front fill and 27 1100-LFC low frequency control elements – arrayed as nine three-high stacks in cardioid configurations – delivered mammoth bass impact with minimal on-stage intrusion.
'Meyer Sound Leo Family systems are ideal for festivals like MTA,' says SAG founder and Board Chief Executive, Zhang Bo, who also mixed at FOH for groups without their own engineer. 'They have exceptionally low distortion even when reproducing very high levels. They also have a lot of headroom, making it easy for engineers to do their job beautifully.'
Also contributing to the success of MTA was Zhugen Wang who served as sound designer, system engineer and monitor engineer. 'I really appreciated the Galaxy 816 network processor and Compass control software,' he says. 'I particularly like the way the new proprietary Low-Mid Beam Control ensures greater uniformity of coverage. Also, deploying the 1100-LFCs as an arc in cardioid stacks allows an even spread of massive lows throughout the audience without disturbing performers onstage.'
The Leo Family moved on to Changsha at the end of July for the Mango Music Festival, produced by Hunan Broadcasting and presented in front of the network's headquarters. Here, the system was deployed at the Future stage where the mix of acts spanned singer-songwriters, pop and indie rock.
I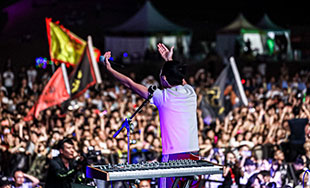 n Late August, SAG's Meyer Sound systems will support the Dome International Music Festival in Qingdao. The Leo, Lyon and Leopard systems then anchored a system for the Haunted Night 4H Trendy Music Festival in Chengdu in mid-July. This EDM and street dance festival was heavy on hip-hop and rap, with Chinese artists joined by acts from Germany and Canada.
Founded as an A/V, lighting and staging rental business, SAG has expanded and diversified into a full-range service provider for entertainment design and production in audio, lighting and stage design. The company supports at least two major headline tours annually along with more than 50 live music concerts featuring Chinese artists. SAG also provides live sound mixing and streaming services for concerts, festivals, TV shows, award ceremonies and sporting events with OB vans and their support teams. The SAG portfolio also includes live entertainment production, music publishing, and production and distribution of music recordings.
'Leo Family systems are known and accepted on tech riders by most artists,' Zhang notes. 'There are not that many systems available now in the Chinese market, but we expect that to change in the months to come.'
More: www.meyersound.com