Maintaining its own house of prayer in the German city of Paderborn, Evangeliums Christen Baptist is a congregational chapel recently received an audio refit from local service provider Musik Aktiv Musikequipment. With the previously installed audio system outdated and needing to be replaced, Musik Aktiv tested several systems on the market before deciding on RCF's HDL 10-A as the most suitable system for this project.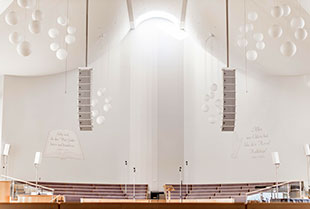 The system was planned and designed by the German department of the RCF Engineering Support Group and installed by the community members themselves. 'We used RCF because we appreciate the competent support from the sales department,' says Musik Aktiv owner, Frank Schallenberg. 'The RCF engineers are very conscientious and detail-orientated in all they do, plus the quality of the components, no matter in which category, is very high. When using RCF equipment, we experience practically no complaints or repairs. If there should be a difficult situation, the flexibility of the RCF team always gives you the feeling you are in good hands.'
The church's house of prayer was opened in 2004 and holds 600 people, being the centre of the church community. The HDL 10-A is an active two-way system and is installed as a stereo full-range line array in two hangs of nine modules. Since multicore cabling already existed, the decision to use RCF's active HDL 10-A meant that the construction work was easy in terms of cabling. The previous system was located in the middle of the ceiling but for the new RCF system, the team opted for a classic outline with two curves located to the right and left of the stage to achieve better coverage. Special suspensions were installed in the ceiling to mount the line arrays.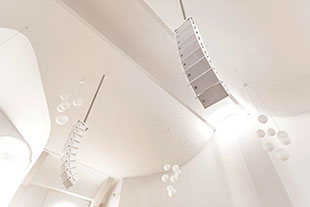 During the liturgy, the congregation stresses the importance of choral support of the sermon, with great attention consequently being paid to good audibility and excellent sound characteristics at various positions within the hall. Besides the sermons, choirs, orchestras and further musical contributions are an essential pillar of the services., All sermons are recorded and later made available as audio files for download if parishioners weren't able to attend. A simultaneous translation of the service in the Russian language is available for the parishioners.
During installation and calibration of the system, structural conditions such as balconies and different surfaces had to be taken into account. In such demanding environments, the HDL 10-A offers many adjustment possibilities regarding radiation angle or coverage – quickly to implement using the RCF Shape Designer. The system is extremely reliable, especially in fixed installations, and offers 1.4kW peak power leveraging the integrated, efficient digital power amplifier.
More: www.rcf.it