Located near the city of Tula, the Zolotoy Gorod eco park is among the largest country parks in Russia, operating year-round and receiving guests from around the world. It recently benefitted from the installation of a Martin Audio WPL PA by A&T Trade and Music Trade on its main stage to serve artists all summer long.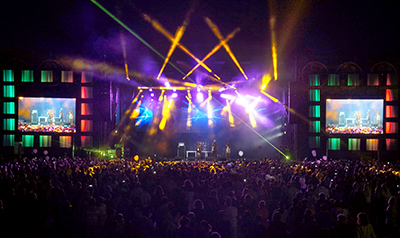 The main stage of the Zolotoy Gorod presents a multi-genre line-up featuring artists for pop, folk, orchestra, rock, electronic and theatrical performances. 'We needed a universal speaker system that would sound great for any challenge,' says Sergey Bobrov, owner of Music Trade.
The scalable resolution of WPL offers greatly improved coverage consistency and control compared to a standard line array and provides a flexible pathway to advanced array control. The main PA comprises ten Martin Audio WPL elements flown on each PA wing, with eight further WPC each side as out fill. A cardioid array of 12 SXH218 subwoofers stretched across the width of the stage, provide low-frequency support.
The season opened in June with a series of retro music artists included Natascha Wright (ex La Bouche), Sheyla Bonnick of Boney M and Pupo.
'With WPL we made the perfect choice and are delighted with the result,' Bobrov reports. 'We are also grateful to the engineers from A&T Trade for their comprehensive support in system design.'
The stage has been operating every Saturday since, and will run until September. It is expected to have received audiences of around 350,000 by the time the season ends.
'Projects like this highlight the true versatility of WPL,' says Martin Audio MD, Dom Harter. 'The Scalable Resolution of WPL will deliver consistent, even coverage across the whole audience area, and the classic Martin Audio sound will be beneficial to every genre of music. The main stage at Zolotoy Gorod eco park will be sounding good all summer long.'
More: https://martin-audio.com