Riedel Networks has finalised its Miami Triangle Project, opening of a point-of-presence (PoP) in Miami and signing a bandwidth update contract with Neutrona Networks for the Miami/New York/Sao Paulo circuit. The company has also been named one of the world's leading Managed WAN service providers by ISG, an independent technology research group.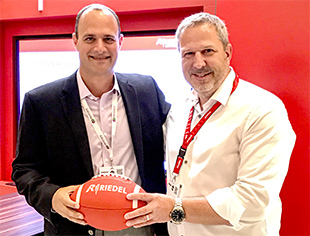 Riedel Networks attended the ITW show in Atlanta, one of the most important industry conferences with more than 7,000 attendees and 2,000 exhibiting companies from 135 countries, participating in more than 100 meetings with carrier partners, customers and prospects over three days. The trade show saw the signing ceremony for the bandwidth update of Riedel Networks' circuits connecting Sao Paulo to New York and Miami. Riedel Networks CEO Michael Martens and Neutrona Networks CEO Mateo Ward signed the contract at the Riedel Networks booth.
'This agreement opens a new chapter in the partnership between Neutrona and Riedel Networks in LATAM, delivering fully diverse and low-latency connectivity to enable Riedel to provide a superior level of customer experience to their end-users,' Ward says. 'In conjunction with our newly formed Miami Triangle, this bandwidth update will ensure secure and reliable access for our customers in the Americas.'
The Miami Triangle project brings a wide range of benefits to Riedel Networks and its customers – the new PoP in Miami will accommodate increasing traffic originating from Sao Paulo, greatly improves network resilience as each of the three cornerstones can easily take over the traffic in case of a network failure, and reduces Riedel's network coast-to-coast round-trip delay by 11ms.
'We are very happy that our efforts with the focus on global SD-WAN and direct MPLS access have once again been approved by an independent market survey,' says Riedel Networks Head of Sales, Bernhard Pussel.
The company recently launched its SD-WAN product portfolio, delivering enhanced security and increased efficiency. 'Riedel Networks is the first network provider to use a 100 per cent homogenous hardware and software solution by Cisco,' says Director of Product Management, Dr Joachim Sinzig. 'Our customers can count on the perfect interaction of all components and on their constant improvement.
More: www.riedel.net