Founded in 1998 with a used DDA mixing console and a couple of small PA systems, Cellosound has grown to become the premier audio production company in Guangzhou, the city at the heart of the most-populous metropolitan area in mainland China. The latest addition to its inventory is an Alcons Audio LR28 loudspeaker system.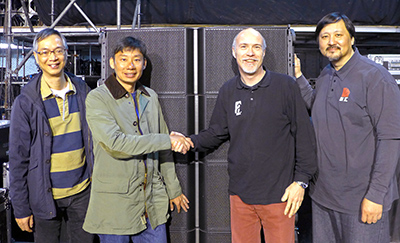 As the Chinese economy expand in the early 2000s, the company's customer base grew and Cellosound has regularly upgraded its rental inventory. By late 2018, a new high-end solution for major events was needed: 'Our customers were requesting a system for touring and EDM events and we knew that, to continue our growth and development, we needed a complete, large -format line array system with beautiful sound,' Raymond Liu explains.
Cellosound spoke to A/V distributor Guangzhou Donghui Digital Technology Development who recommended Alcons as an option, with the LR28 larger-format line array the best solution. After auditioning it, Cellosound made an initial investment in a system comprising 16 LR28, eight BC543 very high output cardioid subwoofers and Sentinel10 amplified loudspeaker controllers.
The LR28 has very high SPL capabilities and throw. Together with the BC543 selectable cardioid low-frequency pattern control, rear rejection and excursion, which extens the output by 3.5dB compared to traditional 18-inch designs, the system can exceed audience expectations at large events.
Cellosound has already used its system on live broadcast events for global Chinese technology company Sina Corp, beneath the Canton (Guangzhou) Tower, and other events where the system has proved so successful that a further investment is already planned. 'We are really happy with the LR28, it is very good to work with and delivers great results,' Liu reports. 'We will definitely be expanding it in the near future.'
More: www.alconsaudio.com