Having served as monitor tech for Iron Maiden's for 17 years alongside similar duties for Helloween, Motörhead, Anthrax and Halford, Ian 'Squid' Walsh joined Swedish rock band Ghost to mix monitors on A Pale Tour Named Death, which crossed North America before arriving in Europe and Australia. The gig gave him the opportunity to explore Klang:fabrik's immersive in-ear monitoring system for the band's vocalist and frontman, Tobias Forge, aka Cardinal Copia, Papa Emeritus Zero, and other bizarrely inter-related characters.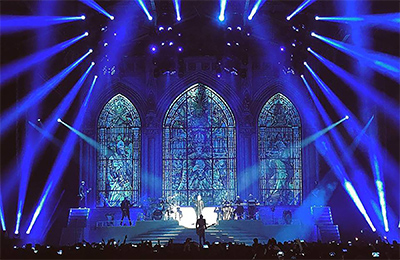 'It's funny how sometimes things can come full circle,' he says. 'Several years ago, I was on a European tour with the band Of Mice and Men, who were opening for Linkin Park, and I was given a demo of the Klang system on one of the band's off days.'
On his recomendation, Linkin Park monitor engineer Kevin 'Tater' McCarthy took a Klang:fabrik unit on tour with his client. McCarthy returned the favour by sharing his experience with Walsh, and suggesting that the system might be a good fit for Ghost's tour.
Walsh picked up a demo Klang:fabrik unit for the band's rehearsals in Nashville, and did an initial set-up mix knowing what Forge liked to hear. 'After a couple of days of trying to get Tobias to use it, he sat down at the console and I let him loose on the computer with the Klang software,' he recalls. 'After ten minutes of moving stuff around himself while the band played, he finally gave it a try. One song was all it took.
'He said, "It's what I've always been looking for; buy it", And that was it.'
Forge's approval gave Walsh his first opportunity to use Klang in a live situation, and although he's currently only using it for Ghost's front man, he hopes to soon make it standard for all of his performers on in-ears. 'As there are no speakers on stage, everything Tobias listens to comes through the Klang and he seems very happy with the set-up – especially his vocal, which, in turn, makes my job easier.'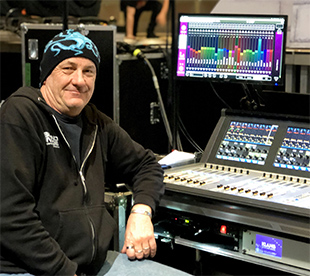 Walsh runs his Klang:fabrik over Dante, with inputs from the direct outs on his Soundcraft Vi console. 'We typically run 54 inputs for the show, but I've got this number down to 30 for the Klang by submixing keyboards in an aux and then sending this to the Klang,' he explains.
'This means I only have to move a stereo mix on the Klang, not 11 keyboard lines, which is way too many little symbols to look at. I then return the Klang mix to a stereo input and send it to the IEMs through a regular aux mix. This way, I can add talkback mics and click stuff that doesn't need to be immersive to his mix. I'm also running Ableton Live to record the shows and for Tobias' reverb; he appropriately like the one named Valhalla.'
Sound Image has been supplying the band's control package for tours in North America, with Denmark's Victory Event, Stage & Tour providing all audio, lighting and set elements for the group's European dates.
Following Ghost's European solo run, the band are now touring as a guest on Metallica's Worldwired 2019 visit to Europe with some US festival appearances peppered between dates. Walsh and the band will also gear up for another six-week North American run, The Ultimate Tour Named Death, which begins in Bakersfield, California.
'Everyone at Klang has been really helpful, and we're really loving the what the system does,' the engineer adds. 'I'm so glad that I originally told Tater about Klang, and even happier that he reminded me about it.'
More: www.klang.com