Located in the heart of Brussels, private members' bar Impérial channels the charm and underground cool of a Prohibition-era speakeasy. The atmosphere and jazzy vibe that draws guests in then gives them an A/V experience using TiMax SoundHub and dcontrol.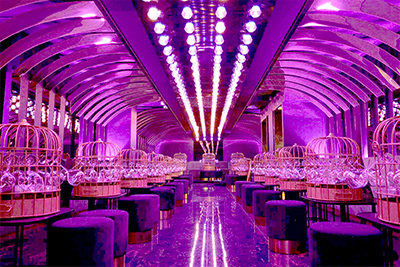 Realised from concept by Belgium-based design and installation integrator Face Projects, the vision of Carl de Moncharline – owner and manager of several successful Brussels venues – was for an 'immersive environment creating spherical sound experiences', as well as a stylish lighting system in keeping with the historical façade and vintage ambience of the venue, that was versatile enough for live jazz concerts, a DJ clubbing, or even a cocktail bar. The challenge to create this in a low-ceiling and small space fell to long-term and trusted A/V partner, Face Projects, working in conjunction with refurbishment project manager, Laurent Grietens, of Wisely.
Simplicity was key to the specification for the venue. Dramatically different sound environments would need to be recreated at the flick of a switch that for Face, made TiMax a necessity. 'I do not even want to think how we would set up the sound system without TiMax, no other product could provide this level of precise control,' Face CEO, Karel De Piere explains.
The TiMax SoundHub-32S spatial audio matrix controls a total of 38 discrete speakers from Electro-Voice. Effective sound control without spillage is a deliberate consequence of the many distributed speaker sources, which help avoid noise pollution for the neighbouring buildings. Having said that, the speakers integrated into the walls and ceilings of the venue are powered by three Powersoft Ottocanali amplifiers and a Duecanali amplifier for the sub-bass units, which ensure a solid club vibe in the space.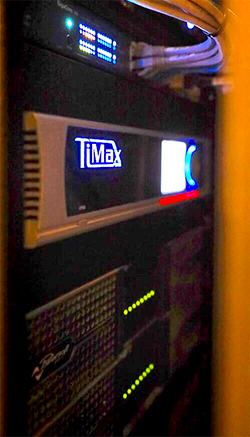 Dave Haydon, Director of TiMax developer Out Board, visited to assist with immersive rendering of the space and programming object-based spatial effects. Zone overlays were created within TiMax to segment the venue space, which can also be aligned across the full venue area. From a static image for live music sets to dynamic movement for evenings of clubbing with a DJ, presets and different spatial effects are defined to suit the requirements of each of the club's audio configurations and performance formats.
One of the most exciting soundscapes that activates the clubbing experience is described as a sound shower, which as the name suggests, submerges guests in sound, with TiMax spatially blending speakers spread along the low-arched ceiling of the venue with others in the walls. Stijn Vermeiren, Face project engineer, adds, 'One of the set-ups makes soundscapes very simply travel into 180° on two axes, which even at quite low levels gives a very clear spatial feeling.'

Controlling TiMax, as well as all the other elements of the venue's A/V system, is the control solution, dcontrol, developed independently by Face's Vermeiren. dcontrol is a software-based solution that interconnects unrelated A/V equipment, fixing the highly complex problem of connecting devices that do not natively speak to each other. dcontrol links the venue's devices, synchronising the settings and controls across an open management system not limited by a few brand protocols or closed systems.
The club's haute technological backbone interfaces, but does not disrupt its ambience: Impérial glows in the warm white rows of Lucenti Pearls, controlled and powered via DMX.
Configured as a pixel LED ceiling matrix, 230 individually controlled Pearls are daisy-chained on wired festoon cable. The lighting integration appears historically authentic whilst also serving as versatile entertainment lighting, which has the full-colour spectrum at its disposal for video-mapped lighting displays on club nights. It is also functional within the space as the festoon fitting and discreet DMX powering complement the low ceiling and further house lights are not required.
Club founder, Carl de Montcharline, is delighted with the outcome of the integration: 'The results are just as I planned for. The building is beautifully historic and we have worked with its style to create an equally beautiful inner space for guests to enjoy, which adapts to the club's changing needs. I work with Face because they realise in the space exactly what I ask for and more.'
More: www.outboard.co.uk