Described as its 'most difficult project of the year to date' MusicDATA has delivered a new OB Van to national broadcaster Czech Radio. Furnished with an Innovason Eclipse digital mixing console, the project was completed ahead of schedule.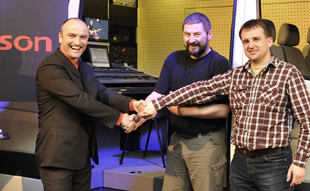 A team of 15 people from the Innovason distributor and systems integrator worked for two months transforming a VW Crafter into the most modern OB vehicle on the Czech Radio fleet. The van will be used by Czech Radio Ceske Budejovice to broadcast some of the Czech Republic's most prestigious events.
'Czech Radio certainly didn't give us any quarter in terms of what they wanted for the van and their expectations of what we could provide,' says project leader Miroslav Prihoda. 'Fortunately, we enjoy a challenge and the result is a particularly pleasant working environment with excellent acoustics and reliable technology. With this project, I think we have set a new quality standard for small OB vans.'
The OB and recording vehicle is built on an EtherSound backbone which provides real-time transfer of up to 128 channels with minimal latency and full connectivity with other EtherSound devices. At the heart of the installation is an Innovason Eclipse digital console and Mars HD recording system, which allows recording of up to 64 tracks in 48kHz/24-bit quality. Up to 80 inputs may be connected externally, using Innovason's DioCore stagebox and the latest addition to the Innovason portfolio, the compact SR-16 remotely controllable EtherSound-enabled mini-stagebox. The SR-16 is also used for the announcer's connection. An Auvitran AVM-500 matrix enables a configurable connectivity to the EtherSound network as well as a back-up recording via ASIO.
A back-up power supply ensures full operation for up to 80 minutes in the event of a power failure. Independent air-conditioning and heating systems, combined with high-quality insulation makes it possible for the OB van to operate in any climactic conditions. All the cables and connector panels are installed at the back of the van along with several storage boxes and practical rack drawers for all the paraphernalia that is required during off-site recording.
'Our aim was to build a highly professional OB van that will meet the standards of the most demanding European markets,' says MusicDATA's Tomas Ourednicek. 'We were able to draw on our experience of two decades in building recording studios and OB vans, as well as supplying systems for live television shows and international broadcasts, such as President Barack Obama's visit to Prague.'
More: www.innovason.com