Polish audio rental operation Target Sound has expanded its loudspeaker systems inventory with major investment in Outline products, including GTO, C-12, Mantas 28, Superfly, X8 amplifiers and the Newton FPGA processor.
Based in the southern city of Chorzów, Target Sound is one of Poland's largest full-service production companies, providing lighting, staging, multimedia and audio for a variety of events including conferences, live music, festivals and television.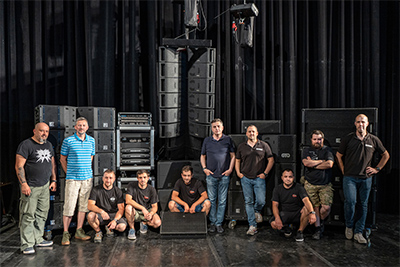 As one of 65 K1 partners globally and owning a comprehensive inventory of L-Acoustics products, Target Sound's owner Adam Guzdek describes his reasons for taking such a bold step: First, the systems are characterised by incredible precision in reproducing sound, with unprecedented SPL – the musicality of each of their products is overwhelming, as we discovered when GTO was presented to us last year.
'In the mixes of bands that performed, even with very densely arranged songs, there was a place for every detail and every single note. The transparency of sound offered by Outline systems puts them among the best audio systems available today, systems that will handle everything from symphonic music to heavy metal and all of them will sound amazing. That's why we decided to become a GTO Rental Network partner and to acquire all the major Outline line array systems.
'That was a decision driven by a need to diversify our technical offering for domestic and European clients,' he continues. 'We are an L-Acoustics K1 Partner but we want to expand our business to cover more of the European market, providing audio production services at the highest levels. To do this we needed a breath of fresh air and a second brand able to perform to those international standards. Adding GTO, C-12, Superfly and Mantas 28 expands our choices and capabilities for the very diverse range of music genres and artistic programs we handle.'
So what makes the Outline's line-source systems stand out in today's market from a technical point of view?
'Outline line systems are being specified more and more often by sound engineers because they allow them to focus on mixing,' Guzdek replies. 'There are no inherent problems with the phase alignment of the systems and so the sound is coherent and extremely accurate. The technology used in the waveguide has a huge influence on this, specifically the DPRWG [Double Parabolic Reflective Wave Guide] – in simple terms, the guys from Outline found an alternative way to produce a coherent wave with a flat frontal area. Of course the superb overall audio performance is also greatly influenced by other factors, such as the use of properly tuned chambers for the mid-bass sections.'
During the summer of 2019 Target Sound has deployed its GTO Series loudspeakers and other Outline systems during July at the Lucca Summer Festival in Tuscany, which included performances from Elton John, Ennio Morricone, Sting, the Scorpions, Toto and Tears for Fears.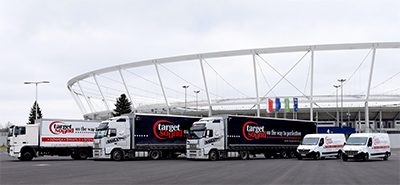 'We were very happy to support so many great international artists who performed at LSF this year and to hear their sound engineers' feedback after using Outline's GTO series and other line array systems,' Guzdek reports. 'Their satisfaction is the best motivation for us which confirms that we made the right choice, as Outline systems clearly gain attention from the whole world and are appreciated by top artists.'
The Newton FPGA-based processing platform was also used at the festival…
'For some time – and in common with many sound companies – we have been looking for the right tool to distribute signals from numerous consoles simultaneously,' Guzdek says. 'It turned out that the ideal solution is the new Outline Newton processor, whose discovery drew our attention to the Outline brand and its line array systems.
'This small device is probably the only one on the market today that meets our requirements in terms of live work where we are using many different consoles at the same time. It has enough digital and analog inputs and outputs. It is a great converter between protocols including Dante, Madio (optical, coax), AES / EBU and analogue and also features an advanced 18x16 matrix. Timing clock synchronisation gives us unlimited possibilities and all of this can happen automatically between formats in every direction.
'Its powerful FPGA-based processor allows the use of Outline's new, patented WFIR filters. Newton processes up to 16 input channels in parallel, to which we can assign up to four signals from any source in order to define a source backup strategy. If one of the signals is lost, it automatically switches to the next one. It's also complemented by a double power supply.
'From our point of view, we needed a device capable of handling numerous festival consoles simultaneously while maintaining flawless quality operating at 96kHz. We used them recently during a very large concert in a stadium for almost 50,000 people with nine consoles at FOH for various artists. Newton worked perfectly and the various sound engineers were delighted with its functionality and audio performance.
'Our customers expect from us the highest quality service and the highest quality equipment,' he adds. 'We work on many different types of event and it's hard to find an integrated set of products that can be used on anything we do and still provide the results that we and our clients expect. That flexibility and consistent quality is why we chose Outline systems.'
'We will certainly work to expand our Outline inventory, especially the GTO [double 15-inch] elements. In the final analysis however, the happiness and satisfaction of our clients will be the best motivating factor for further activities and purchases.'