Having held the Guinness World Record title as The World's Largest Music Festival for 20 years, Wisconsin's Summerfest is colloquially the 'Big Gig', attracting between 700,000 and a million people to Milwaukee's Lake Michigan shoreline to watch more than 800 top artists and bands perform on a dozen stages over 11 days in late June and early July each year.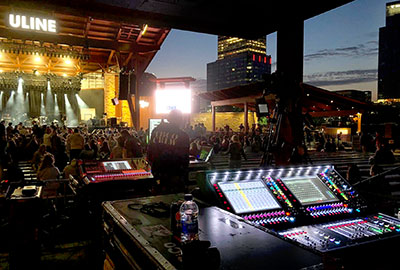 The technical challenges involved in providing sound reinforcement an event on this scale are numerous, but Clearwing Productions – Summerfest's longtime primary production partner – keeps the festival running like a well-tuned Harley-Davidson engine. According to Clearwing Audio Operations and Logistics Manager Jeff Schauer, a big part of that success has been the five-year standardisation on DiGiCo FOH and monitor mixing for all of Henry W Maier Festival Park's stages, including this year's adoption of 4REA4 systems for three of those venues.
'We had a DiGiCo 4REA4 set up at the BMO Harris Pavilion, US Cellular Connection Stage, and Harley-Davison Roadhouse, and they were the essential system matrix and production hub at each site,' Schauer says. 'Although we supply rider-friendly DiGiCo desks for every stage except the American Family Insurance Amphitheater, where touring artists have to carry in all of their own production elements, we regularly have bands and engineers show up with the desks that they're used to touring with, many of which are also DiGiCo.
'With the new 4REA4, we were able to not only take Madi from our desks, but also allow guests with their own consoles to bring in various platforms – whether it be Dante, Madi, analogue or AES, and at any clock rate – and we could quickly and seamlessly integrate them into the PA. House music was also run through the 4REA4s, so any file changes could be done on the house desk without any interruptions in the PA system.'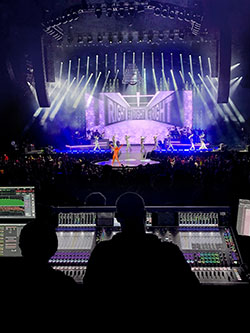 Each of the three 4REA4 systems was paired with DiGiCo's 32-bit Mic Pre-Amps and AControl8 remote control fader panels, providing tactile control for the system engineers during changeovers. These would control all of the drive inputs from the bands, as well as all of the mains, front fill and delays, which, depending on the stage, could be multiple delays with various delay times.
With 17 DiGiCo mixing consoles – a combination of SD12, SD10, SD9, SD8, SD5 and S21 – supplied by Clearwing for nearly all of Summerfest's stages, Schauer values DiGiCo's support as much as he appreciates the quality and reliability of the products. 'DiGiCo and its US distributor, Group One Limited, are big proponents of education and held a pre-festival training at the Briggs & Stratton Big Backyard for all of the union operators for the stages, which was fantastic,' he says.
'It was perfect for quickly bringing some of the younger engineers better up to speed on the functionality of the desks, while also providing a nice refresher for the ones who have been using them a while, but maybe not as regularly, as is life for a union operator. There was also an SD10 set up in the Clearwing hospitality area for the run of the festival for visiting engineers to build or modify files, or to demo the attached Klang system with the playback tracks provided, which was very helpful.'
Although the sounds of Summerfest are heard through Clearwing's park-wide deployment of large L-Acoustics and JBL loudspeaker systems, the quality of the audio experience is just as dependent on having the right engineer and mixing console.
'The SD-Range are fantastic sounding desks, overwhelmingly accepted by artists, and the support we receive from DiGiCo is nothing short of amazing,' Schauer adds. 'As widely as they are being used at festivals around the world, it is much more commonplace for engineers to have a file for one if they're not carrying their own production, which greatly simplifies things for a huge production like this. It's reasons like these that we continue to turn to DiGiCo year after year as our exclusive console partner for Summerfest. It's been an incredible relationship and it just keeps getting better.'
The event's Production Manager Steve Vallee agrees, praising DiGiCo's track record: 'It all boils down to consistency and results, and we get that with DiGiCo every time,' he says. 'It's all about results.'