One of Miami's new hotspots for dining, La Estacion American Brasserie is a 240-seat restaurant and bar with four private event spaces and a large open kitchen that is proving a big draw for Brightline (soon-to-be Virgin Trains USA) guests, local residents, and professionals working upstairs at MiamiCentral. For background music, the restaurant's management chose a new sound system from DAS Audio. Consulting and A/V systems design firm Sound Investment Audio handled the installation.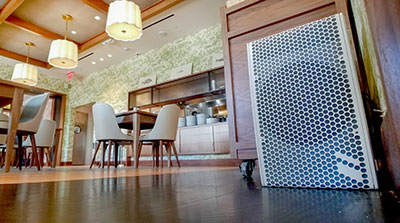 'To ensure the best possible background music, we elected to install 30 DAS Quantum Q-23-T full range loudspeakers and another eight Q-10 subwoofers,' says David Asimos, a Project Manager with the company, oversaw La Estacion's sales, design, and build phases. 'These provide outstanding speech intelligibility and configurable response, making the Quantum Series ideal for spaces with complex acoustic conditions and immersive experiences.'
Asimos reports that La Estacion has multiple areas designed to accommodate a variety of activities. As such, the sound system was designed to provide individual control within these areas.
'We needed a solution where the size or low-profile design of the loudspeakers was important, without compromising sound quality and intelligibility. For this application, DAS Audio's Quantum Series was the perfect choice,' says Asimos.
The system installation at La Estacion was begun in May 2019, and the system was placed into service immediately. With the new system fully operational, Asimos reports: 'Our client is extremely happy with its performance. The sound is clear, very musical, and the flexibility to control the various zones is working extremely well for the wide range of activities that take place at La Estacion. The bottom line is that this has been a win-win for everyone involved.'