New York mixologists Maks Pazuniak and Al Sotack recently opened the Jupiter Disco, using inspiration drawn from their mutual love of dystopian science fiction – an unmistakable aesthetic combining world-class drinks and reference-monitor quality sound. Danny Taylor, from House Under Magic, designed the sound system, calling on his familiarity with Danley Sound Labs' technologies to give the bar impactful, detailed sound with a 'grilles-off' aesthetic that fits the theme.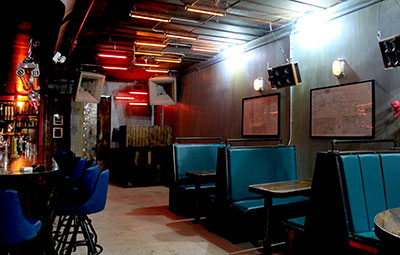 'This is Maks and Al's passion project in a scene filled with taste-makers who are very enthusiastic, but also very critical,' Taylor explains. 'The drinks and aesthetic are an obvious priority, but the sound system is as well. They wanted to bring in DJs, along with limited live electronic acts in support of a local scene here in Brooklyn. They wanted an awe-inspiring sound system.
Taylor approached designing the sound system with two main goals: Ensuring that there was enough power and precision in the system to deliver high volume in a focused fashion and making sure that all the elements fit the look and feel of the room without disrupting the theme. 'The space was chosen because it's a steel and concrete box, which is the right look for a run down bar in 2065,' he explains. 'That said, it's not an ideal acoustic area, so the goal was to find a way to make sure we were able to have a full volume dance floor without blowing everyone's hearing out.
'They had to put money into it to pull it off, but the real key to Jupiter Disco's success is their genuine passion. The scent of genuine passion (or its lack) is really picked up on, and you can't buy your way into it.'
Taylor's experience of Danley goes back many years. He played in and engineered for Collapsing Scenery, orchestrating and overseeing their happy reliance on a pair of SM80 loudspeakers and a pair of TH118 subwoofers for all their live shows. He also works closely with Eastern Stage Productions, which keeps a stock of Danley boxes on hand for their sound and efficiency.
'As great as the Danley technology sounds, I have to say the Danley horn-loaded aesthetic is almost as important as far as my clients are concerned,' Taylor says. 'They respond to look as much as to sound, and a Danley horn-loaded box with its grill off is an iconic look. Clients get excited.'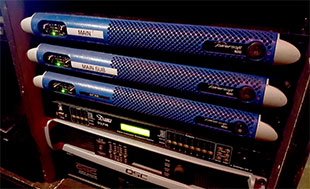 Based on their coverage patterns and output, Taylor selected a pair of Danley SH60 loudspeakers for the mains at Jupiter Disco. The grills are off and the wood is stained to fit the rest of the bar's aesthetic. 'The SH60s are one of the first things you'll notice when you walk in,' he says. 'It's a real statement piece, not just a black box. And the coverage is perfect – it's even across the bar without much spill on the walls and ceiling.'
A TH118 integrated into the DJ booth fills out the low end, with support from two CS30 subs.
The sound system is driven by three Powersoft MD20D power amplifiers – one for the mains, one for the subs, and one for the satellite sub. Taylor selected the MD20Ds for their power and reliability, as well as their ability to deliver the signal in the purest possible way. 'The design point of this entire system was to have as much clean power as possible without a lot of internal DSP,' he says. 'What's great about the MD20Ds is that they are just pure, clean, unbiased power. They give out exactly what you are putting into it without adding any coloration, which allows the character and compression to come from the front end of the system.'
In addition to providing the club with the clean power required, the system can also handle the fast transients required for the room, allowing visiting DJs the ability to provide a healthy variety of music that is well tuned to the space as well as make use of modular synths or drum machines to enhance their sets. 'The MD20s react to fast transients really well without any lag time,' Taylor adds. 'They are also barely being pushed to their capacity, which means we have a lot of power in reserve if someone really wants to push it.'
More: www.houseundermagic.com
More: www.danleysoundlabs.com