Attracting in excess of 100,000 music-lovers over its five days, the Volt Festival is among Hungary's largest live music events. It has been taking place annually in Sopron (near the Austrian border) since 1993 and, alongside Balaton Sound, is one of three festivals under the Sziget Festival banner, promoted by Sziget Cultural Management. All have for many years been serviced successfully by Capital Sound, with a Martin Audio MLA loudspeaker array.
Volt presents a multi-genre line-up featuring artists for electronic, rock, pop, jazz, and urban genres as well as theatre performances, visual art exhibitions, film screenings and sporting events. Capital Sound again received local support from Hungarian MLA partner, BG Event Kft, in the form of Balázs Szentiványi, and was further assisted by the expertise of Marci Mezei. Together, they serviced both and with a single truck of equipment, sourcing the remaining kit locally from BG Event.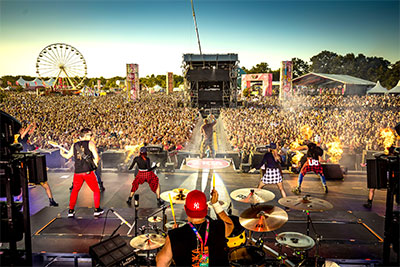 Artists on the Telekom Main Stage this year included Slipknot, Black Eyed Peas, Slash, Papa Roach, Martin Solveig and Cypress Hill.
According to Capital Sound Account Manager Robin Conway, although production now has the sound design down to a fine art they closely review the Sopron event each year, and in 2019 changes to the site layout necessitated them installing field delays.
The main PA comprised 17 MLA elements and an MLD Downfill enclosure flown on each PA wing, with nine further MLA each side for out fill and 18 MLA Compact as front fill. Some 36 MLX subs were designed in 12 three-high cardioid stacks with 70cm spacing between, while out in the field two hangs of six MLA Compact provided the FOH shadow coverage on the back of the FOH structures. 12 MLA Compact provided the two field delays each side.
Technical support from the UK was provided by the experienced Joseph Pearce at FOH and Kevan Snuggs as monitor tech.
A week later and Capital were on site at the idyllic Lake Balaton, and the roots of the festival named after it are steeped in EDM culture. Now in its second decade, it has put Hungary on the map in terms of being a key destination for the premium beach festival experience.
With impressive line-ups featuring the world's best in EDM, house, and hip-hop artists over nine stages, this year was no exception, with Tiësto, Marshmello, The Chainsmokers, Armin van Buuren, DJ Snake, J Balvin, Future and Timmy Trumpet among the headliners.
The main PA hang comprised 17 MLA and an MLD Downfill on each flank with nine MLA on each side providing side fills, with the same subwoofer complement as Volt and 18 MLA Compact providing near fills. There was also a single six-box hang of MLA Compact elements on each of the split FOH towers.
'Everything went extremely well at both events and the promoters were happy,' Conway reports. 'Once again we are indebted to BG, who helped us out a lot with the extras.'
Capital will be back in Hungary for the week-long Sziget Festival in August, when more than 250,000 people are expected to attend.
More: https://martin-audio.com