Among the Netherlands' most prestigious recording facilities, Wisseloord Studios has installed an iD44 audio interface in its writing room.
Describing itself as 'a place to be inspired by its rich musical history', the studio has had no shortage of greats through its doors, including Elton John, Def Leppard, Iron Maiden, Tina Turna, U2 and Snoop Dogg.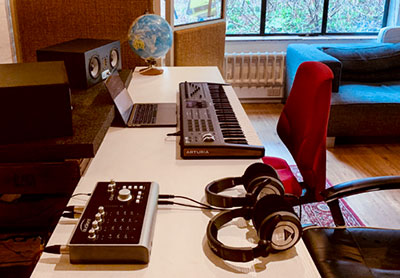 'Wisseloord's reputation as one of The Netherlands' best studio facilities is known worldwide, so when they contacted us about adding an iD44 audio interface to their new writing room we were very excited to be involved in the project,' says Audient Marketing Director, Andy Allen.
'It brings us great pride knowing that the calibre of artists that will inevitably pass through the writing room will be writing and recording their next hits using an Audient interface.'
Supplied by local distributor, Pro Media Connect, the 20-input/24-output Audient iD44 interface was joined by its little brother, iD22 for Wisseloord Studios' newest songwriting room.
Comprising three studios and two mastering rooms, as well as a number of smaller writing rooms, the facility was originally opened by Prince Claus in 1978, having been founded by electronics company Philips as a space to record PolyGram artists. Today, it boasts 'advanced technology and aesthetic that will take it into the future', while retaining its 'relaxed atmosphere and the vintage vibe'.