Airing breaking stories and celebrity news, TMZ has been a media success story over the past decade, having expanded beyond its online roots into broadcast television, and producing daily syndicated programmes including TMZ on TV, TMZ Live and TMZ Sports. All are produced in TMZ's production facility in the Playa Vista technology corridor of Los Angeles.
Intercoms at TMZ studios have consistently been RTS, based on an Adam-M digital matrix system, KP-12 and KP-32 keypanels, and BTR partyline wireless beltpacks. With the need to vacate the UHF frequencies used by the BTR system due to FCC rule changes, the TMZ team recently upgraded the wireless portion of their RTS system.
In consultation with broadcast integrator Bexel, the company has installed an RTS Roameo wireless system comprising 12 TR-1800 beltpacks with four AP-1800 wireless access points throughout the facility to enable users to move between studios, control rooms and postproduction.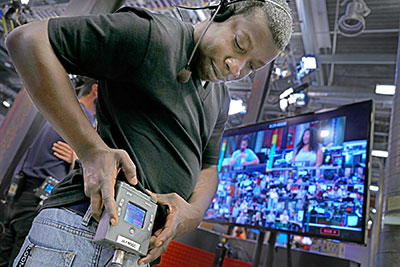 'We needed a good, solid wireless system for our floor crew, and Roameo certainly is that,' says Brett Kotheimer, TMZ Director of Broadcast Operations. 'But this system really takes things to another level. It puts a virtual keypanel on your hip. It can access basically any crosspoint on the matrix, so each pack can be personalised for the user.'
Roameo uses a cellular wireless structure, allowing seamless roaming between access points, and operates in the future-proof, licence-free DECT frequency band (1.92GHz). In terms of infrastructure, it can be fully integrated into any digital matrix in the RTS family (Adam, Adam-M, Odin), connecting via a single Ethernet cable from the wireless access point for both power and data transmission. The only infrastructure change TMZ had to make was the addition of an OMI (Omneo Matrix Interface) card to its Adam-M frame to add full Omneo networking capability.
TMZ installed four AP-1800 access points across its production areas, including postproduction. 'Now we have clear reception everywhere in our facility with no dark spots, with the system smoothly handing off the beltpack from one access point to another,' notes TMZ Broadcast Engineer, Justin Richardson. 'There are no clicks or pops, no audible changes as the user walks through.
'This is really helping our entire workflow – with the OMI card installed, mobile users can now access the matrix frame and access Dante sources and destinations, just like a desktop keypanel. Yet it's still compatible with the old two-wire IFB system we use on our interview stage, which really makes it an affordable upgrade.'
With the beltpack's keypanel capability, wireless intercom routing options are now fully programmable. 'Roameo packs are just as easy to program as any KP-12 or KP-32, and our users are already familiar with RTS keypanels,' Kotheimer reports. 'They love seeing the crosspoints showing up on their beltpack display so they can grab the sources they need. They picked it up really fast.'
TMZ also appreciates Roameo engineering touches like the rechargeable battery system, 17-hour run time and upgraded codec for excellent sound quality. They also appreciate the system's ability to accept standard cellular headphones as an alternative to regular intercom headsets.
'When a headset breaks down, it can disable an entire production,' Richardson says. 'With Roameo, you can just plug in your cellular headphones and finish the show. So essentially, everyone has their own backup now. It's a simple yet very insightful feature – a sign of a really well-thought-out system.'
'Roameo is the perfect upgrade for us,' Kotheimer adds. 'It addresses our present needs without changing our RTS matrix, and it opens up new capabilities in terms of workflow and we're ready for future expansion. We're extremely happy with our investment.'
More: www.rtsintercoms.com