Currently playing his monster kit with Jane's Addiction and the band Hellflower, drummer Stephen Perkins' resumé is impressive – among many others, he has worked with Rage Against the Machine, the Red Hot Chili Peppers, Nine Inch Nails, and Suicidal Tendencies, as well as on numerous radio and video projects.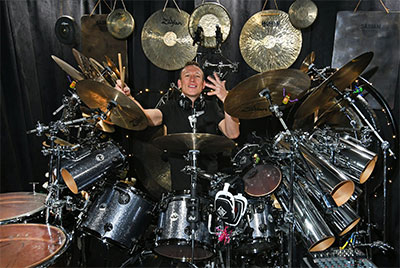 His drum-centric studio in LA is a percussionist's dream that he calls his 'colourful palette'. Here, tom-toms of virtually every size and depth, snares and kicks, cymbals, gongs and hanging iron plates, are all captured using Telefunken's DC-7 drum pack of microphones alongside multiple pairs of THP-29 isolation headphones. The DC-7 package includes the M82 dynamic kick drum mic, a matched pair of M60 FET cardioids for cymbals and overheads, and four additional dynamic mics for snare, toms and other percussion instruments.
'I've got almost every sound and colour you can think of – from high to low, from sharp to dull' says Perkins. 'And to mic it is quite an experience for my engineer, Rob Gage, because when I sit behind the kit I use each drum. Some get loud, some are quiet, some stick out like a sore thumb, some blend.
Working alongside Perkins, engineer Rob Seifert Gage has been an engineer/producer since 1985, and is widely respected for his work with Porno for Pyros, Wyclef Jean, saxophonist Gerald Albright, Mike Watt, Angels Cut, eels and Los Amigos Invisibles.
'I want to capture the punch and the articulation of the beater hitting the head, but I don't want that plastic, hard sound,' Perkins continues. 'I want the sound of the attack and then the pillow after it, to capture that low end and also to make sure that enough real estate is left open for other instruments. A great microphone and a great performance – that's the union, that's the gel.'
In addition to recording numerous projects in his studio, he also hosts Live at Perkins' Palace for the YoRadio App station, when he invites friends over to chat, play and talk. The studio is based around a Universal Apollo 8x, plus an array of Telefunken mics and headphones.
'There are four sets of isolation headphones, so everybody in the band gets to hear the same exact mix,' he explains. 'Great speakers in those headphones, and the isolation is wonderful because I can play drums and hear what the mix is in my ears, not just what the room is doing. They're lightweight, they're comfortable, the actual cut fits around my whole ear, and they're also nice for just listening to music quietly.'
'I've been playing drums since I was eight,' concludes Perkins. 'Telefunken changed the world of recording so many years ago, and they are continually evolving. There's a quest for precision, a quest for perfection. They're always trying to figure out what's next, while still honoring the technology of yesteryear, because it's been proven. They really care about the music and the best ways to capture it.'