Radio Kuwait – the first major adopter of Stage Tec's Nexus networking in the Middle East – has expanded its Nexus audio network with an updated central Nexus Star router and 20 Base Devices connected in a star configuration now responsible for the entire audio signal distribution in the radio station.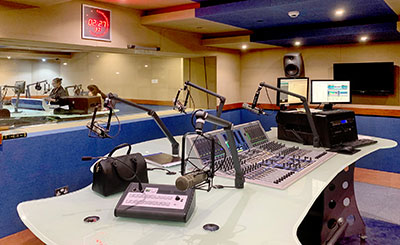 The broadcaster's use of Nexus dates to 2004, when the system was put into operation in Radio Kuwait's main control room. Dante/AES67 boards now provide IP interconnection of production facilities at the radio station, which has also implemented Stage Tec's Nexus Monitor Control – a GUI that allows any signal in Nexus networks to be monitored without a mixing console.
The expansion of the Nexus installation was supplemented by a major update of the entire system, which bring various new features, such as the expansion of the Nexus network to 63 Base Devices with up to 64,000 I/Os. Stage Tec also supplied three new Nexus Base Devices with numerous interfaces, which were installed in the main control room and in two music studios. The Nexus network includes a Stage Tec On Air and two Auratus consoles.
'Radio Kuwait opted for Stage Tec 15 years ago because Nexus provides an extensive distribution network for audio signals, taking all conceivable formats into account,' says Jean-Paul Moermann of Sales at Stage Tec, who trained Radio Kuwait engineers after the installations and the update. 'Another advantage is that Nexus is constantly being further developed and thus remains compatible over generations.
More: www.stagetec.com