British electro-pop classical crossover band Clean Bandit recently played their first concert in the Jordanian capital of Amman. Performing at the Boulevard in the new Abdali district, local live event production specialist Triad Live Productions supplied the PA, control and lighting for the band including a KV2 Audio point-source sound system.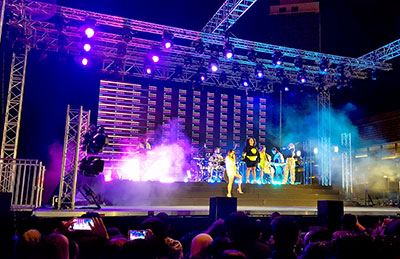 More than 4,000 fans attended the concert produced by Zeej Entertainment, a young, ambitious company committed to developing Jordan's cultural scene by organising and promoting concerts and festivals locally.
Triad supplied one VHD2.0 mid/high cabinet paired with one VHD1.0 down fill per side. Two ES1.0s per side handled side fill with six EX12s for front fill. For the low-end, Triad supplied eight VHD4.18 subs and a further four VHD2.16 flown subs.
Triad's Amjad Marar is a long-time point-source system user, and feels that it is a more flexible way to power large-scale events than using line arrays: 'We used to use line arrays like everyone else, as at the time, it was considered to be the only way to successfully power major concerts,' he says.
'The switch to point source for us came after we heard a demo of KV2's VHD system in 2007. From that moment on, we felt that KV2 had successfully busted the line array myth. It was enough to make us abandon line arrays completely in favour of point source systems, and we've used them for almost all of the major concerts held in Jordan since – Akon, Yanni, Tom Jones, the Jerash Festival and others.
'Clean Bandit – with prominent local artist, Jaafar, as the opening act – was no exception,' Marar adds. 'The gig sounded great – very dynamic, crystal clear and with plenty of headroom to spare. We had lots of positive comments about the sound from both the crew and audience members, so as usual, it was a job well done.'
More: www.kv2audio.com