Shure is to continue its support of the UK Little Wing Film Festival for the second year. The festival is exclusively for first-time filmmakers, students and recent graduates, and provides a platform for showcasing work, education, networking and support.
This year, Shure is sponsoring and supporting three film categories: Best Director, Film Futures Award and the Film Enterprise Award. The Company will provide three prize bundles, each comprising a VP83F LensHopper camera-mount condenser microphone with integrated flash recording and SRH840 professional monitoring headphones.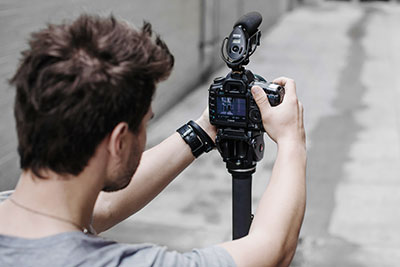 Little Wing grew out of frustration at the difficulty of finding paid work for young professionals beginning their creative careers. It appears for a third year in September, screening some of the best new films from emerging filmmakers across the globe in a larger space at the Hen & Chickemns Theatre in London..
Highlights from previous years include Sir Ian McKellen voicing an animated film, and masters'/student collaborations with DOP Robbie Ryan (The Favourite, American Honey). This year, Little Wing Film Festival welcomes as a patron Jamie Robson. Jamie won the award for Best Male Actor in 2018 for his role in Blue Christmas, which also won for Best UK Film. Jamie is an active ambassador and champion of Scottish and British independent film.
Shure believes in the spirit of the festival and the importance of nurturing new talent and the industry of tomorrow: 'We're proud to be supporting Little Wing Film Festival again this year by providing prizes for three awards,' says Paul Crognale, Manager of Global Marketing for Musician & Consumer Audio at Shure. 'It's very important to us to continue championing emerging talent and supporting young people entering creative industries.'
'Thanks to partners who continue to support young people breaking into the creative industries, we have another arsenal of fantastic prizes to award our winning filmmakers, including advice sessions with members of BBC Films,' adds Festival Director, Mariah Mathew. 'This year we have added two new categories to reward elements of filmmaking we nurture in the future of film – accomplishing brilliant work on a micro budget, the Enterprise Award, and championing challenging storytelling and representation on and off screen, the Future Film Award.
'We're looking for works of all lengths and genres from students, recent graduates, and first-time filmmakers. Submissions for the festival close on 22 July and can be submitted by FilmFreeway.'
More: www.shure.co.uk