When Rachel McCann and Josh Gray purchased Nashville's Ivy Hall residence five years ago, their ambition was to turn the basement of the landmark property into a commercial recording studio. Today, the job of running that studio is in the hands of Studio Manager/house engineer Eric Loomis.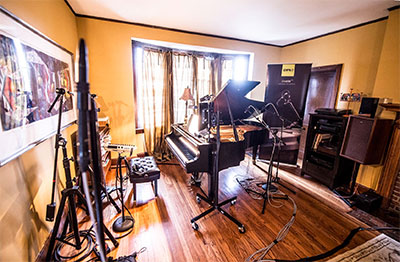 'I've always loved DPA microphones and, although most studios have the classic vintage selection of mics, I wanted something that would set us apart from the traditional mic locker found in many studios in Nashville,' Loomis says of the studio mic cupboard. 'DPA's quality of manufacturing is so high that if I have to rent additional DPA mics, I know that a mic of the same model that is years apart in manufacture or has seen a lot of work will be able to perform as well as a brand-new microphone. That simply cannot be said for a vintage counterpart.'
As a recording artist as well as co-owner, Rachel McCann has recorded at the studio, as have Andrew Sheppard and Sarah Clanton and have all recorded at Ivy Hall Studio – and taken advantage of a DPA mic inventory that includes a stereo set of d:dicate 2011A Cardioid Microphones for drum overheads and many other instruments, and d:facto 4018VL Vocal Linear Microphone and d:vote 4099 Instrument Microphones for toms, upright bass and cello. Loomis has been so impressed with DPA microphones, he uses them on every session, and also recently used the mics to accurately hear the difference between two mic preamps. 'DPA enables you to take out a variable in an often very complicated tonal situation,' he explains.
'There is not another microphone out there that has better off-axis frequency response,' he continues. 'When I use the d:vote 4099 on toms on a drum set, the off-axis pickup of the cymbals or snare into the tom mics is so similar in color to the direct signal that there is little to no coloration from bleed. In addition, DPA's mics incorporate an internal preamp circuit that sends a very usable amount of gain to any preamp you may be using for a recording session or live show. This helps me to have an inherently lower noise floor and cleaner recording/performance.'
In addition to his studio work, Loomis also uses DPA mics when on the road: 'I'm a touring FOH engineer and have used DPA on numerous live shows over the years, especially the d:vote 4099 on bluegrass, jazz, classical, rock and everything in between,' he says. 'I carry the d:facto 4018VL for use on Dan Tyminski's vocals for all of his tours. It is the best live vocal handheld microphone I've ever used, and I've tried them all.'
Since implementation of the d:vote 4099 at Ivy Hall Studio, DPA has released a new, upgraded instrument microphone, the d:vote Core 4099 Instrument Microphone that has replaced the legacy mic. The Core version adds another layer of sound quality. The Core by DPA amplifier is a new technology that brings more clarity and detail to music across the dynamic range.
More: www.dpamicrophones.com