The largest event of its kind in the Netherlands, Jazz in Duketown fielded nine stages and for more than 175,000 visitors recently in in 's-Hertogenbosch. With international players on the main stage in the city's marketplace, dBTechnologies' VIO L212 line array systems provided by RPSoundtechniek, delivered the FOH and stage sound.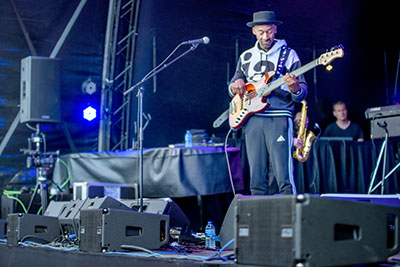 The festival had used dBTechnologies systems previously, making dBTechnologies the system of choice for 2019 – with the new VIO L212 full-size line array for the main stage. The VIO L212 is the most powerful line array system in the dB product portfolio, with ten L212 modules plus two L210 boxes as down fill used as the main array at right and left of the stage. For front and out fill, eight L208 modules from the VIO family were chosen. Six S218 and 12 S118R subwoofers gave low-frequency support. Side fill was by two VIO X15 and two VIO S118R boxes.
The festival's first highlight was Marcus Miller's performance on Friday. The bassist and multi-instrumentalist Miller has collaborated with many greats in the international jazz world, lending his chops as a studio and session musician, producer or solo artist to the likes of Miles Davis, David Sanborn and Aretha Franklin.
'Jazz in Duketown is a typical festival situation where the schedule is very tight, and the time for a soundcheck is very limited,' says Daniele Di Giovanni, FOH mixer for Marcus Miller. 'I could tune the FOH mix very quickly, and the sound quality impressed me very much. The even balance of the whole spectrum in all positions, far away from the stage, close to the speakers and at the side was really excellent.'
Eight RCF TT+25-CXA served as front wedges, with drummer Alex Bailey using VIO S118R and VIO X12 boxes as drum monitors.
Despite its fully active design, the VIO L212 is one of the most compact and lightweight 2x12-inch line array systems in its class – an active three-way line array system designed for the largest live applications, providing 3.2kW RMS and 142dB maximum SPL. All VIO modules are easy to combine and form a single system, and RPSoundtechniek integrated the smaller VIO L210 as down fill into the main VIO L212 line array. Additionally, the integrated RDNet interface allows the systems to be operated with dBTechnologies' own Aurora Net software and adjusted according to the measurements.
'The VIO system not only offers perfect sound, a basic requirement for such a jazz event,' says dBTechnologies Sales Manager, Rob Pigmans. 'It also has many features that greatly simplify rigging and make the use of mixed systems child's play. All modules of the VIO family are perfectly matched to each other, which makes working with the VIO system so perfect.'