The success of 'Dancing With My Fingers' from Miyavi's Samurai Sessions Vol.2 in the Japanese charts in 2017 marked a watershed in the careers of audio entrepreneur/mixer Joel Wanasek and engineer/mix assistant Joe Wohlitz. While Japanese guitarist, singer-songwriter, record producer and actor Miyavi (Takamasa Ishihara) is a known for his unique guitar playing, the US pair of Wanasek and Wohlitz are two-thirds of Drumforge (with Joey Sturgis), a company that makes sample libraries and drum mixing plug-ins.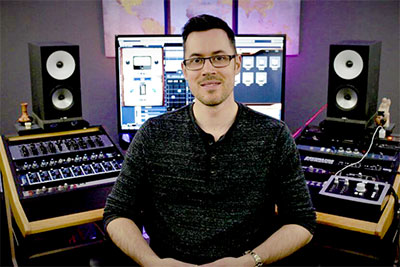 'It was my first number 1 song as a mixer/mastering engineer so it was a great honour,' recalls Wanasek, who enjoyed the 'cool and unique experience' of working with Miyavi. 'I have spent many years mixing metal and removing dynamics from guitars. On this record, a good amount of them were actually left in, because Miyavi slaps a lot.'
Knowing how good recording software and drum samples have improved over the years, Wohlitz believes home recordists should aim for simplicity when choosing their gear: 'Our philosophy is that anybody who is starting off only needs an interface with two great channels of preamp and conversion. Audient's iD22 goes above and beyond that, and is the logical first purchase anybody should be making for an interface until their needs require something else in a much higher price bracket.'
When Wanasek bought his iD22, it was because his original interface went for repair. 'I asked my assistant Joe what he thought could deliver high enough quality without us having to spend a ton of money,' he says. 'The iD22 started off as my backup, but it was around that time that all my work started going in-the-box, so we just stayed on it. It definitely sounds great and delivers a lot of features for the price point.'
Wanasek is also co-owner of Unstoppable Recording Machine (URM Academy) and has found the audio interface invaluable for creating content: 'A huge thing for me was having four outputs in a compact size. I do a lot of live streaming and educational content for URM Academy. I wanted something that got rid of my patch bay and was compact. The four outputs made setting up a new rig easy.
'The iD22 is also very portable. For example, I backpacked it on the plane with a laptop for Namm this year and did mixes live from the floor. It made everything a breeze,' he says. 'These days I'm mixing a lot of pop music in-the-box. I used to have an advanced hybrid set-up with a lot of gear. Now I'm running a pair of Amphion One 18s and Empire Ears ESR for monitoring and using an Audient iD22 as the interface. For my needs it is perfect.'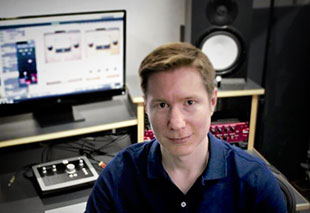 Wohlitz describes how iD22 helps him in the mixing process: 'I'm working on headphones about 70 per cent of the time and can say the headphone amp is really great,' he says. 'Monitor controls are exactly what I need in my workflow with the dim, cut and mono options readily available and who doesn't love a giant volume knob?
'Mixing is a large part of what we do, so audio conversion quality is important,' he adds. 'The converters on the iD22 hold their own against units two-to-three times its price. The stereo imaging is great, and the low end is very clean and clear.'
The future is looking bright for both, with Drumforge preparing to release a big sampler update with new features, as well as developing 'some really unique and cool new technologies', according to Wanasek. At URM Academy, they're working on a series of new courses and gearing up for the annual summit, a several day educational and networking event that this year will be taking place in Las Vegas.
More: www.audient.com