Riedel Communications has chosen Semafor Mediateknik to expand its distribution network in Sweden.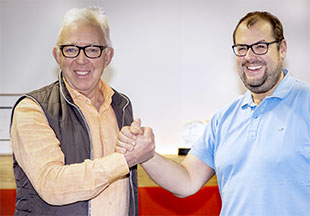 As a full-service provider of systems engineering and technology consulting, Semafor will distribute Riedel's Bolero wireless intercom system to Swedish media and broadcasting customers. 'Riedel's Bolero is a true game-changer, and we are very excited to represent and distribute the product here in Sweden,' says Semafor Mediateknik MD, Björn Zabell. 'There is large and growing demand in our broadcast and A/V markets for intelligent intercom systems like Bolero. With its RF robustness and high-quality audio, this wireless system will greatly enhance our customers' workflows.'
The Stockholm-based technology consultancy company can look back on 20 years of experience in the broadcast industry and a portfolio of high-quality products from a select list of top-tier manufacturers.
'Semafor is the perfect partner to broaden our coverage of the Swedish market – Björn is a well-respected figure in the industry with profound technological expertise,' says Riedel Communications Head of Sales for Scandinavia, Tobias Kronenwett. 'I am confident that with his assistance, we can firmly establish our Bolero solutions in the broadcast, theatre and live event markets.'