Yamaha Corporation has adopted Audinate's Dante A/V Product Design suite for integrated A/V over IP audio/video technology, and has begun the development of a suite of new products targeted at the professional A/V market.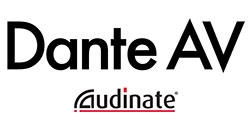 Yamaha first supported Dante audio networking in 2010 with the Mini-YGDAI card Dante-MY16-AUD. In 2012, Dante interfaces became a standard installed feature on CL Series digital mixing consoles. The company has subsequently introduced a number of Dante-compatible products, such as the Rivage PM series of flagship digital mixing systems, the MTX/MRX series of matrix processors, and the VXL series PoE line array speakers.
Yamaha's initial A/V product releases will centre on applications requiring the need to breakout and distribute audio and video signals, while maintaining synchronisation throughout a facility or venue. Dante A/V addresses networked video and audio synchronisation by using a single network clock for sub-microsecond accuracy. It is an IP routable Layer 3 technology that allows standard IT network switches and cabling to be used to build highly reliable networks while minimising equipment costs. The Dante A/V Product Design Suite includes the industry leading intoPix JPEG2000 codec which is capable of supporting 4K/60 4:4:4 video for visually lossless results with low latency.
'Our collaboration with Audinate over the past ten years has been extremely beneficial to us,' says Yamaha Audio Business division Senior General Manager, Yoshi Tsugawa. 'Having a commercially-supported, complete networking solution provides customers with a trusted solution. Taking advantage of Audinate's expertise in digital networking has transformed networked audio and we anticipate Dante A/V will deliver the same benefits for networked video in the professional A/V industry.'
'Yamaha has a remarkable history of developing innovative, high-quality digital products,' adds Audinate CEO, Lee Ellison. 'By adding Dante video into Yamaha products, the distribution of audio and video will become easier for customers to deploy integrated solutions.'
More: www.yamahaproaudio.com