AC Entertainment Technologies (AC-ET) has supplied ten Shure QLXD24/SM58 digital wireless systems to Hertfordshire-based staging, lighting and A/V hire company, Centre Stage, to meet the event production needs of high-profile clients including West Ham United Football Club.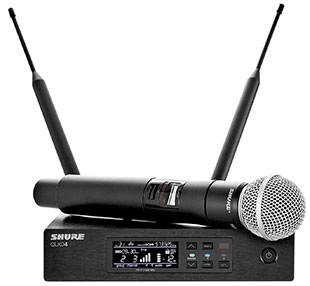 Established in 1990, Centre Stage is a leading supplier of technical services for the live event, conference and entertainment industry in the UK, specialising in supporting the arts, theatre, music, education, sports and corporate sectors, as well as local community groups. With a broad, nationwide customer base serving small events as well as large-scale festivals and multiple stage events, Centre Stage's Graham Baker was keen to invest in digital wireless technology to help with the ongoing battle of spectrum, and to offer a wider choice of brands and systems to customers.
He chose wireless QLX-D – featuring a QLXD2 handheld transmitter with SM58 microphone capsule, and a QLXD4 receiver – to offer robust wireless performance with easy set-up and digital audio quality. Features include IR sync between transmitters and receivers, AES 256 bit encryption for secure wireless transmission, and operation of up to 22 transmitters per 8MHz channel. Since adding the QLX-D systems to Centre Stage's hire stock, they have been used for pre-match entertainment, player and special guest appearances in the Hospitality Lounges at West Ham United Football Club during the football season.
'We have owned Shure systems in the past,' Baker comments. 'It's high-quality equipment at the right price point. It offers a rider-friendly option to our rental stock, ideal for hospitality and conferences, all the way up to the most technically demanding live music events.'
'It was a pleasure working with AC-ET. [Kay Wilkinson, Audio Sales Executive in AC-ET's specialist Audio division] was great; she was always quick to respond to any query and put together various package options before the purchase. Based on the excellent service, I'm sure when the opportunity arises, I will be in touch again for my next purchase.'
More: www.centrestage.org.uk
More: www.ac-et.com