Live radio and TV commentary for the forthcoming 18th FINA World Aquatics Championships will see extensive use of Tieline codecs by host broadcaster Munhwa Broadcasting Corporation (MBC).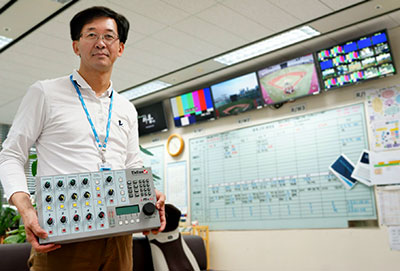 Tieline's longstanding South Korea representative Coil and Wire (CNW), has been contracted by host broadcaster MBC to provide all commentary units and manage all commentary positions, including the Commentary Switching Center at the International Broadcast Center (IBC) for the games to be held in Gwangju.
'Thirty-one i-Mix G3 and 19 Commander G3 codecs will be used to cover numerous aquatic sports including swimming, diving, artistic swimming, water polo, open water swimming and high diving,' says. Hyung-uk Sheen from CNW. 'MBC has entrusted CNW to provide commentary systems for this event because CNW and Tieline have successfully provided rock-solid commentary solutions and comprehensive support for global sporting events such as the 2017 FIFA World Cup, 2014 Asian Games and the Asian Indoor and Martial Arts Games in 2013.'
All commentary positions will stream live audio over IP, with backup audio over ISDN also being provided at each of the six main venues. The codecs can all be fully configured and remotely controlled from the IBC and fail over seamlessly between IP and ISDN feeds if required.
'The level of remote control, coupled with the support provided by Tieline, is one of the key reasons CNW and Tieline were selected for this event,' says Tieline VP of Sales APAC/EMEA, Charlie Gawley. 'Tieline has been involved in live sports broadcasts since our inception. The importance of having complete remote control of each commentary unit from the IBC means there is no requirement for a Commentary Control Room at each stadium. This simplifies network configuration and reduces costs substantially for the host broadcaster.'
More: www.tieline.com