Celebrating the work and influence of synthesiser pioneer Dr Robert Moog, Moogfest returned to Durham, North Carolina for its 15th showing – with Meyer Sound as Official Sound Partner for a second year.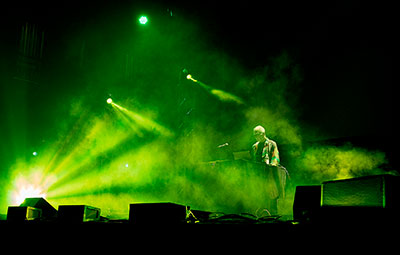 This year's expanded presence included providing multichannel systems for concerts, workshops, and technology demos at the festival's anchor performance spaces, including the Durham Armory, the 21c Museum Hotel,and Fletcher Hall at The Carolina Theatre, as well as two installations at the Durham Fruit and Produce Company. Many of the events in these venues showcased Meyer Sound's Spacemap, which provides spatial mixing for any loudspeaker configuration. New user interfaces were developed for Moogfest to provide simple, real-time, spatial audio control.
The Moogfest partnership provided an opportunity to demonstrate a new world of creative possibilities for live performances. 'Moogfest's spirit of innovation in music technology aligns closely with our efforts to bring spatial sound to live music production,' says Meyer Sound Director of Spatial Sound, Steve Ellison.
At the Armory, Ellison partnered daily with guest artists to demonstrate ways Spacemap can be used in real time. 'We created sets that gave us a chance to, in a sense, create spatial duets,' explains Ellison, who improvised mixes that showed how spatial audio control could have the expressiveness of an instrument.
Composer and synthesiser pioneer Patrick Gleeson presented spatial mixes of new, largely improvised work in one of these sets. 'When we're in real life, all sound is spatial. It changes as you move and it's changing constantly,' says Gleeson, adding that spatial sound is 'going to change the way I write music. If I know I'm writing for 360°, it's a little bit different. There are more possibilities.'
Composer Jim Lang presented spatial mixes of various works including selections from his and Gleeson's project :Jazz Criminal:, as well as a live improvisation. 'Meyer gave me an opportunity to experience music that I'd made over the past ten years in a completely different way,' says Lang, who is perhaps best known for his work scoring the Nickelodeon series and movie Hey, Arnold!'As a film composer, I get to work in 5.1... but a lot of the time I'm not getting to use the surround sound as a musical element, as a compositional element.'
'I really hope that spatial sound can be a part of any live performance that I do from here on in,' Lang continues. 'That seems like a grand thing to say but really, once you've experienced it, it's hard to think about just doing stereo anymore.'
Meyer Sound systems supported three nights of performances at The Armory, The Fruit, 21c Museum Hotel, and the Carolina Theatre, powering the musical expressions of artists including Matthew Dear, Max Cooper, Kimbra, Craig Leon, Mount Kimbie, JLIN, A Place to Bury Strangers, Richard Devine, and Juan Atkins, plus an epic DJ set by Questlove. The systems incorporated both D-Mitri and Galileo Galaxy signal processing and a wide range of Meyer Sound loudspeakers including the recently introduced USW-210P compact narrow subwoofers at each surround position as part of the six channel system in the 21c installation and twelve UPQ-D3 ultra-wide coverage loudspeakers in surround positions at the Armory as part of the venue's 14.4 configuration.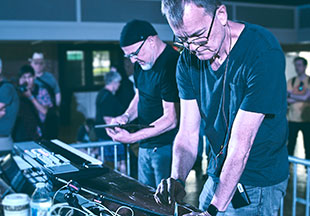 Performances celebrated spatial sound's potential to energise live audiences and make them feel closer to the audio experience and artists. 'There are so many things about 3D sound and spatial audio that are really important, but the main one, I think, is for people to really feel the music in a different way,' says electronic trip hop artist Sofia Hultquist, aka Drum & Lace, who performed a spatially enhanced set at 21c. 'It just adds a whole new dimension; I think that it's going to do nothing but elevate and expand on my music, and on music in general.'
'In the Max Cooper concert, there were times when we moved the entire mix out to the surrounds and brought the energy out and around the audience, and then when the beat kicked back in, moved the mix back to the arrays to draw focus back to the artist,' says Ellison. 'As the energy increased, we could slice out part of the sound and pulse it out to the room in time with the music. We could sense the excitement from the audience from this evolution of the mix.'
In addition, at the Carolina Theatre, Steve Ellison moderated a 'Making Music Spatial' panel with composer and media innovator Naut Humon, composer/sound designer Martin Carrillo, DJ/producer Felipe Valencia, and Virginia Tech Institute for Creativity, Arts and Technology (ICAT) media engineer Tanner Upthegrove.
Ellison says the best part of partnering with Moogfest is being able to collaborate with artists and mixers to push the envelope of live mixing and, sometimes, incorporate updates overnight. 'It's like a lab venue for artists to explore their craft in a new way and for us to look at technology that has been supporting systems and shows throughout the world for years in a new way,' he says.
'Moogfest is the culmination of technology, future thought, and music,' says Moogfest's CEO Gillian Ryan. 'Meyer Sound synthesised these ideals through their high-end audio systems throughout the festival. This did not go unnoticed to our audiophile crowd. The spatialised Meyer Sound systems in the Armory, 21c, and Fruit Black Box provided incredible, interactive experiences that enlightened the artists that performed and the fans alike. Meyer Sound understands the importance of quality in the live experience, and I look forward to continuing our partnership into Moogfest 2020.'
More: www.meyersound.com