With more than 500,000 attendees, this year's Primo Maggio showcased eight hours of live performance from 31 major and emerging artists – including various national favourites such as Daniele Silvestri, Ghali and Subsonica. Broadcast live from Rome via the RAI national TV channel, the event called on Allen & Heath mixing systems from local production company ABC for its live and broadcast sound.
Supported by distributor Exhibo S.p.A, the full mix set-up comprised eight systems, five IP8 Controllers, an SQ, DX Remote Audio Expanders and additional Dante, SuperMadi and gigaAce cards.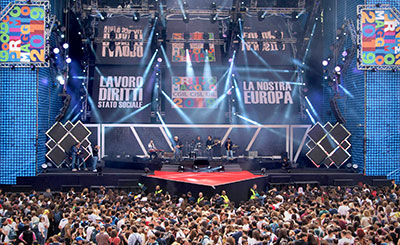 As per past events, Primo Maggio featured used a rotating dual-stage to allow one act to line-check while another performed, minimising changeover time between acts. Each stage had its own dLive S5000, IP8 remote controller and DM48 MixRack handling FOH, while an additional C1500 and DM32 were used for all talkback, comms, video feeds and wireless mics for the RAI presenters.
Monitors mirrored FOH, delivering more than 40 IEM and wedge mixes with two dLive S7000s (with Dante for virtual soundchecking) and two DM64 MixRacks for each side of the stage. A C3500 paired with a DM32 tackled communication between stage, presenters and FOH, while an additional SQ-6 was used for combining outputs from the S7000s into the shared side fill monitors.
On broadcast duties, further S7000 surfaces (with Dante) were paired with two DM64 MixRacks (for each side of the stage), two IP8 controllers and an SSL console, which was used for combining signals to air.
Due to the scale and complexity of the event, production takes 13 days from load-in to load-out, requiring dozens of technicians and two full days of back-to-back soundchecks.
Exhibo Pro Audio Manager Roberto Marchesi attributes part of the event's huge success to the power and flexibility of dLive and its ability to quickly and easily handle multiple, complex situations: 'The dLive systems weren't there just as mixing consoles, they truly formed the core of the whole audio distribution system, thanks to their patching, tie-line and audio networking capabilities.
'Whether it was routing ambient microphones, digital splits, shout lines or video contributions, it was extremely easy to zoom into the I/O screen and patch it on the fly. It made the set-up and stage changes a breeze.'
Also supporting the event was Allen & Heath's Head of Product, Nic Berretta, who adds: 'I had extremely positive feedback from all the engineers involved in the event, including guest engineers mixing on dLive for the first time, with very little training and in a high-pressure situation. It was great to see how quickly they adapted to dLive, with several commenting on the usability, reliability, sound and how easy it was to create a great mix with minimal effort. The recent additions in dLive's v1.8 firmware also proved to be a real game-changer, particularly on monitors.'