A new studio facility for Audio Network composer Barrie Gledden has been completed by Munro Acoustics.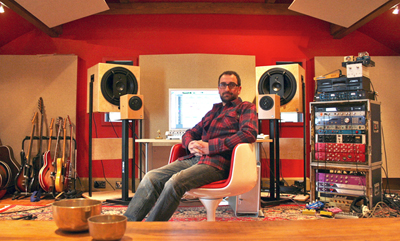 'I need to be at the top of my game when composing music for Audio Network, he says. 'Everything needs to be very high quality. This studio allows me to push my tracking, mixing and production techniques to new heights. It's like an audio operating theatre.'
Barrie has been hailed as one of the best guitarists to come out of England, joining alternative rock band Old Man Stone with whom he co-wrote and recorded three albums. He is currently co-ordinating the writing and production of 200 tracks for the production music publishers Audio Network, of which he is a composer-producer and shareholder. Audio Network offers a complete music solution by cutting through the traditionally complex and costly processes of licensing music. All high-quality tracks are pre-cleared for multiple formats, for the world, forever.
UK-based studio design specialist Munro Acoustics adapted a hayloft for his recording and production work by changing the height of the roof joists to give more headroom and adding new stairs. Mindful of building regulations, acoustic treatment was installed to ensure suitable insulation, as well as optimising the room for listening. The studio booth was designed in modular form and constructed on site.
An Audio Network/Barrie Gledden highlight was when UK Channel 5 TV series The Gadget Show – which uses a Barrie composition as its theme tune – brought Barrie in on an X-Factor judging episode of the show as the two presenters, Suzi and Jason, went head to head to recreate his theme tune using the latest computer gadgets. Barrie was head judge and eventually concluded that Suzi had won the challenge by working with members of the RPO and computer equipment.