Martin Audio partner Penguin Media Hire recently provided production – including a Martin Audio WPC scalable resolution line array – for the main stage at the all-day Mutations Festival at the 900-capacity Hansen Hall on the outskirts of Brighton – described as 'a hidden gem of a venue, crying out for a day of live music'.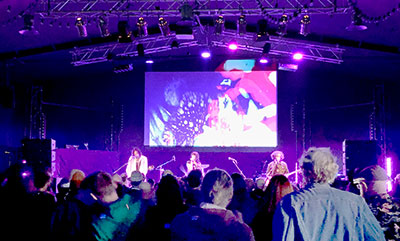 Bands appearing included Colossal Squid, Saint Agnes, Snapped Ankles, Flamingods and Goat Girl, with White Denim headlining.
Dylan Thompson, System Technician/Technical Project Manager, Penguin Media Hire, explains that the WPC line array was arranged in three ground-stacked elements each side of the stage, with a pair of Martin Audio SX218 subwoofers per side. The system, along with five Martin Audio XD monitors, was powered by four iKon iK42 4-channel amplifiers. An Allen & Heath mixing desk was used at FOH and a comprehensive mic, stand and cables package was also provided.
Speaking on WPC, Thompson continus, 'The system is quick to deploy, lightweight and sounds great. We are well versed in using the DISPLAY and VU-NET software from working with MLA in the past, so our switching to the new iKON amplifiers, which WPC uses, was extremely straightforward.
'Coverage of the room was excellent, and using WPC in three-box resolution meant that production budgets were met. In fact, having the option to scale resolution based on the environment demands and budgets is a big plus. The system performed faultlessly all day, with headroom to spare.'
'I was amazed at the response and even coverage achieved straight off the software calculations, with only minor tweaks needed to sort room modes,' reports Penguin Media Hire FOH engineer and Hire Manager, Patrick Andrews. 'The system handled the content effortlessly, providing a clear punchy sound to every corner of the venue and plenty of headroom ensuring all transients were delivered accurately. I always know it will be a good show when we have this tech on our side.'
'We used Penguin Media Hire for our production requirements after many site visits and positive discussions with Dylan and Patrick about what could be achieved in a room that has never been used for such an event,' says One Inch Badge General Manager, Chris Lowe. 'I trusted their judgement on using a Martin Audio PA for full coverage of the room and audio quality for the punters. I can honestly say it delivered beyond my expectations on the day. I'm looking forward to doing it all again soon.'