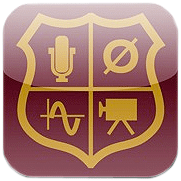 Røde Microphones has extended the reach of its Røde University audio education course to the Apple iPhone, iPod Touch and iPad.
Available as a free app from iTunes, access includes all video content from both the musical and broadcast syllabus from Røde's website.
Launched in 2008, Røde University guides viewers through the basics of recording audio using short, entertaining videos, followed by multiple choice questions to reinforce the key points of the lesson. The instrument recording course covers various ways to record a typical band line-up, including vocals, drums, guitars and bass. The 28 video segments offer key audio fundamentals, as well as a range of ways to mic instruments and vocals, with the pros and cons of each technique explained and discussed.
Filmed in the Sydney's renowned Studio 301 and featuring rock band Hell City Glamours, the course is presented by sound designer and best-selling author Ric Viers, who takes students through a wide range of topics including location recording, ENG, voice-over and ADR, podcasting, DLSR oncamera miking, Foley and sound effect recording.
After installing the app, users can browse the available courses and individual videos and download them to an Apple device. A one-touch trash function makes it easy to manage the videos stored on iPhone and iPad.
More: www.rodeuniversity.com