Alongside the Tour de France and the Giro d'Italia, Australia's Santos Tour Down Under is a major fixture in the UCI World Tour – the premier men's elite road cycling tour. This year's event brought it into the fold of eclectic events, exhibitions, and installations using the L-Acoustics Syva colinear system to provide sound reinforcement for critical public performance.
The race had been held in Adelaide every year for the past two decades, was the first race outside Europe to receive prestigious UCI World Tour status, guaranteeing attendance by the world's elite cycling teams, reportedly attracting crowds in excess of 780,000 spectators.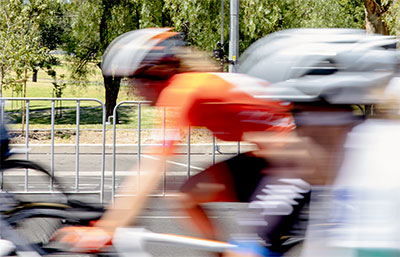 Novatech Creative Event Technology was the technical provider for the event's PA and video screen infrastructure. As part of this, it took on the challenge of designing a PA system that could provide sound from trackside along the race-stage start and finish sections, as well as at selected circuits. Same-day set-up and strike times, and minimal obstruction of the on-track action added to the list of imperatives.
Novatech sited L-Acoustics Syva every 30-50m along the track, using custom-designed, self-erecting stands, and with audio distribution via an AVB-based fibre network. 'Not only would this supply high-quality, full-range audio to the crowd, we'd be able to set-up and strike on race-day instead of having to run cabling and horns two weeks beforehand,' says Novatech Director of Sales and Marketing, Ashley Gabriel. 'Also, with no ladders or working at heights for our crew, it's a huge safety improvement on previous work practices.'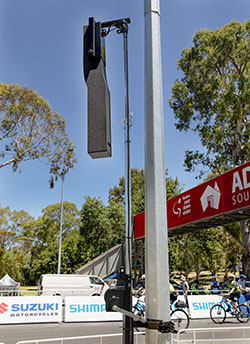 The deployment placed Syva outside in the dusty, hot environment of a South Australian summer with the possibility of rain. Syva has an International Protection (IP) rating of 54, though working in conjunction with L-Acoustics and its Australian distributor Jands, Novatech sourced a custom bracket that provided additional protection. Despite 40°C-plus heat with no extra cooling, the Syva and Kara podium PA performed without extra cooling.
Novatech's fielded Start and Finish teams that set up the Syva towers and signal distribution around the sites. All audio signal was carried via AVB over an Ethernet network, routed through new L-Acoustics P1 AVB audio processors, while video was carried to large LED screens via Riedel's MediorNet. Using a fibre-based network enabled signal distribution over several kilometres.
'As each Syva is fed by its own dedicated LA4X amp channel, we used Network Manager via a large wireless network to time-align each output using a wireless tablet, meaning you don't get the delay you do with horns, which just added to the intelligibility and clarity of the system.
'The longest circuit we covered was the opening 1.7km stage around Adelaide's Rymill Park, where we used Syva on all four straights and L-Acoustics Kara as fill, powered by LA4X and LA12X amplified controllers,' Gabriel says.
Syva is a colinear system designed for minimal physical impact, but with a high fidelity, high SPL output. Each cabinet uses six mid- and three high-frequency drivers loaded by Dosc waveguides wide horizontal coverage and extended throw.
'The wide dispersion pattern means one speaker can cover both sides of the street,' notes Gabriel. 'And the high output can throw 50m comfortably, and up to 75m with no wind – you should have seen the race official's and commentator's faces when we first turned them on.'
For the Tour's system, only the main Syva units were used, though they can be complimented by the optional Syva Low and Syva Sub units for response extension down to 40Hz and 27Hz, respectively.
'This is a busy, exciting event,' Gabriel concludes. 'We used every ounce of intelligibility and fidelity that Syva had to offer, so the crowds could get caught up in every moment and feel the riders' adrenaline as they crossed the line. It needed to be so good that the technology was invisible. And it was – it was all about the race.'