Founded in 1976 by producer Mickie Most, RAK Studios has recently installed Quested's new Q212FS monitors.
Located in a converted Victorian schoolhouse in London's St John's Wood, RAK is a complex of four studios, accommodation, a team of engineers on hand to work with the of artists that pass through its doors – joining a client list that includes Al Green, David Bowie and Pink Floyd, Sam Smith, Mark Ronson, Two Door Cinema Club, Plan B, Arctic Monkeys and Shakira.
The large-format Questeds are now part of a worthy equipment inventory, joining a vintage Neve VRP Legend console in Studio 3 – the facility's second largest, which has seen the likes of the Stone Roses, the Pet Shop Boys, Simply Red and The Last Shadow Puppets all record hit albums there.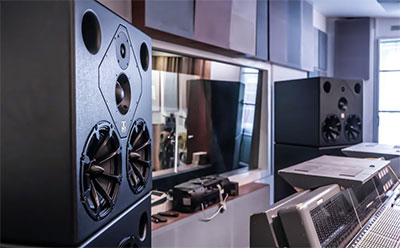 'We needed speakers that would be able to deliver for a diverse range of clients, from people who listen very quietly, to those that prefer things somewhat louder,' explains RAK Technical Manager, Kevin Seal.
'We had a pair on demo on two separate occasions, and also managed to compare them side-by-side with another manufacturer's monitors. Taking into consideration all the opinions from our engineers and assistants, the Questeds completely fulfilled our requirements.'
He notes that the Quested team modified the height of the monitors, allowing them to stand behind the mixing desk to be in the best position.
'It's not so easy to add large monitors to a control room after it has been built,' he says. 'It's more usual to design the room around a set of monitors. The service from Roger [Quested], Stuart [Down] and Ollie [Shortland] from Quested, and Les [Mommsen] from UK distributor Sound Network, has been perfect. Even our last minute changes of delivery dates for demo and then for installing weren't a problem to them.'
'When we received the initial call from the guys at RAK to say they were looking for something a bit bigger than the Quested V3110s they already owned, the timing couldn't have been better,' says Stuart Down. 'RAK is one of London's busiest studios and a regular award winner at the MPGs. The team there build strong relationships with their clients and work hard to make sure they have all the tools they need. They have a diverse range of artists, producers and performers constantly working in the studio and need a system that, on one day, can accurately reproduce a delicate string or orchestral section and the next, provide impact and SPL for some of their more lively clients. We were just starting the introduction of the Q212FS (Free Standing) large format system and felt this would be the perfect solution for the studio.
With RAK being such a busy facility, Quested worked closely with Sound Network, to fit demos around the studio's schedule and were extremely happy to be asked back in for a second time by Kevin and studio manager Trisha Wegg after they had auditioned a number of brands.
'We know the process and diligence that was put in to the decision making process,' Down concludes, 'and we feel very proud that the UK's first installation of a Q212FS system can now be found at RAK Studios in London.'