Restored and extensively renovated between 2016 and 2018 to address longstanding structural problems, the Löffingen Rathaus in Germany's Baden-Württemberg is now playing an important part in the town's administration. Newly installed in the council chamber is a Yamaha TF-Rack mixer.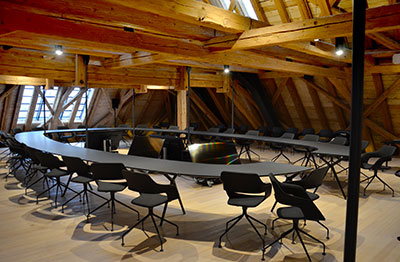 Constructed in 1932, the restoration and stabilisation of the Rathaus structure required more than 340 cubic metres of concrete and 65 tons of steel. As part of the project, the building was updated to comply with the latest accessibility and energy efficiency standards, and the opportunity was also taken to install a new audio system in the building's attic room. This functions as both the town's council chamber (Ratssaal) and as a venue for weddings and other events.
The system needed to cover all uses of the space and also be operated easily and wirelessly by any member of staff. Rainer Schraml of Munstertal-based Soundarts Verantaltungstechnik recommended a Yamaha TF-Rack mixer, controlled by the TF StageMix app on an iPad.
For council meetings, inputs from 19 desktop wireless microphone stations are routed to a matrix of six loudspeakers, facing outward to cover the public seats around the edge of the chamber. For weddings and other events, inputs are provided for wired and wireless microphones, a laptop and CD/DVD player, routed to a pair of inward-facing loudspeakers that cover the room.
'The advantages of using TF-Rack for this project were that it is a compact, reliable and easy-to-install solution, but with all the features that were needed,' says Rainer. 'The onboard Dan Dugan automixing is especially useful for council meetings, eliminating any potential feedback or gain issues. The scene memory means settings for different events can be instantly recalled, allowing the system to be controlled very simply using an iPad.
'It has undoubtedly improved the experience of those attending council meetings, as well as other well as other users of the space.'
More: www.yamahaproaudio.com