Audio-Technica has extended its distribution partnership with Belgian installation audio manufacturer Apart Audio to include Northern Ireland and the Republic of Ireland.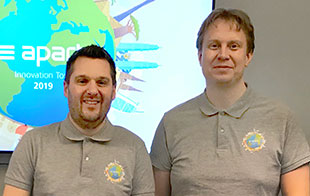 Audio-Technica has acted as Apart distributor in Great Britain since 2015 and also represents the brand in France and Spain, supplying from Audio-Technica's EU warehousing facilities in Montfort, Netherlands as well as Leeds, UK.
'We've seen great success with Apart in some exciting projects throughout Great Britain in the past three years, and I'm pleased to be able to work alongside our partners, both existing and new, to replicate that success throughout Ireland in coming months,' says Audio-Technica's Apart Brand Manager, Logan Helps.
'We're delighted to be building on our established relationship with Apart Audio and taking on distribution in both Northern Ireland and the Republic of Ireland,' adds Audio-Technica Europe CEO, Robert Morgan-Males. 'We look forward to increasing the brand's profile in the territory, working in concert with local partners in what we view as a market with great potential.'
To allow Irish pro-audio resellers, consultants, designers and integrators the chance to 'meet the brand' and get hands-on with the latest product, the Apart Innovation Tour will come to both Northern Ireland and the Republic of Ireland in June.
More: www.audio-technica.eu