Run to critical acclaim and sellout audiences in 2017, Stephen Sondheim's Follies has returned to the Olivier Theatre, the largest stage of London's National Theatre complex. As part of a unique sonic collaboration between Meyer Sound and the National Theatre, its sound is being delivered by Meyer Sound's Leopard and Lina line array loudspeakers, augmented by more than 25 fill and delay loudspeakers. The entire system will remain as the permanent house system after the scheduled close of Follies.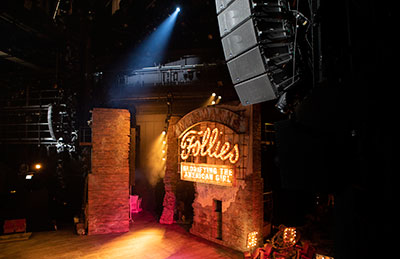 For the first Follies system, sound designer Paul Groothuis sought to extend the capabilities of the former house system for dialogue as well as musical impact. His design was anchored by left and right arrays of eight each Meyer Sound Leopard line array loudspeakers plus a split centre cluster, with three Leopard loudspeakers for the longer throw and six Lina line array loudspeakers for closer orchestra seating.
'When we started the whole process for Follies, having heard Leopard and Lina in the theatre space, it became readily apparent that the new Meyer Sound technology could offer something to audiences that we could not offer previously,' says Dominic Bilkey, who oversees sound and video for all three stages at the National Theatre. 'That experience led to a series of conversations that finally ended up with, 'We really need to put this system into the Olivier for the long-term.'
In addition to the same front arrays, the new house system also comprises six 900-LFC subwoofers along with 14 point source loudspeakers (UPM-1P, UPJ-1P, MM-4XP, UPA-2P, UPJunior and UP-4slim) for fill, delay and spot effects systems. Six additional Lina line array loudspeakers, configured as two arrays of three each, provide fill for the outer edges of the balcony.
'I was flattered to be among the first to use the Linas for the first round,' comments Groothuis, who has credits on more than 120 productions at the National Theatre alone. 'They turned out to be remarkable loudspeakers – really extraordinary, right out of the box. I trust Meyer completely in that regard. With some other brands you have to work quite a bit to make them sound right before you can go into rehearsals.'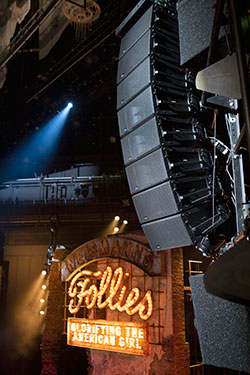 Both the 2017-18 interim production system and the current expanded resident house system were supplied by London-based Autograph Sales & Installations .
'I recall when Autograph first brought in the Lina array for a demo,' says Alex Caplen, associate designer for Follies as well as Sound & Video Supervisor for the Olivier Theatre. 'I was blown away by the fact that you could put it up, hang eight boxes without doing any specific array filtering on it, and it just worked. And when we coupled Lina with the Leopard array, the two married seamlessly.'
And there were benefits aside from sonic performance: 'Opting for the Meyer self-powered system opens new levels of flexibility, in particular with the main arrays where traditionally multiple speaker cabinets would be driven on single amplifier channels,' Caplen continues. 'With Lina and Leopard, we have the potential to access each element, gaining a higher resolution of system control per array. It also allows us to deploy different system configurations quickly without having to worry about amplifier channel availability. This, coupled with integration of AVB networking within the Galileo Galaxy DSP, allows us to scale up our system easily for larger shows without constraining a designer's ambitions.'
The new Meyer Sound system also advances the National Theatre's leadership in theatre technologie:. 'For us at the National Theatre it's not only about putting on a show,' comments Bilkey. 'It's also about staying at the forefront of sound design, of pushing boundaries and leading other theatres into the future. With the Meyer Sound system in here we can do things the others can't do yet, and let that spread out to other theatres.'
For Bilkey, the new loudspeakers embody a partnership forged between the National Theatre and Meyer Sound. 'Partnership means working together, and it is critical that we are not simply taking a loudspeaker onto our stage. We also are taking the ethos of the company that made it; we are taking on a shared responsibility to advance the art and science of sound in theatre. Working with Meyer has been fantastic in that respect.'