With a boardroom that is short on real estate, Costa Mesa's OC Fair & Event Center recently addressed its expanding audio needs through the purchase of a compact SQ-5 digital mixer from Allen & Heath.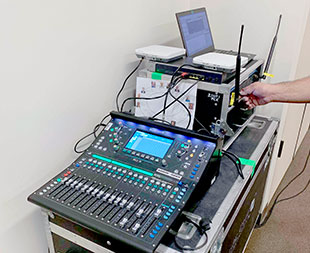 'How small of a room is it?' Ryan Steidinger of Pacific Coast Entertainment (PCE) asks rhetorically. 'Well, it's so small and busy that sometimes the audio head-end winds up shoved into a closet and we have to mix from the back of the room on a tablet.'
As the owner of PCE, an A/V equipment supplier that provides gear for events at the 150-acre venue ranging from meetings and parties to festivals, trade shows, concerts, and the month-long Orange County Fair each summer, Steidinger worked with Technology Supervisor Jason Jacobsen to revise the boardroom audio rig – opting for a Shure MX Series gooseneck mics and QSC Q-Sys signal distribution and control network, and an Allen & Heath SQ-5 chosen because of its footprint, flexibility, and performance.
'The board meetings kept getting bigger and bigger,' Steidinger explains. 'More and more people were attending and making more comments, and better audio was needed for that, as well as for what was being seen and heard on the web. And, as the meetings scaled-up, so did the requirements of the assistive listening system. Combine all of that with the shrinking nature of the small space that was available, and you get a good idea of the challenges we faced. The size, power, features, and remote access capabilities of the SQ-5 made it a natural choice.'
At the heart of the 48-channel, 36-bus digital SQ-5 mixer lies Allen & Heath's XCVI 96kHz engine, which delivers high-resolution audio with an ultra-low latency of <0.7 ms. Equipped in this installation with a 64x64 96kHz Dante network card, the console relies upon Allen & Heath's free SQ MixPad app to facilitate wireless control of the main mixing functions.
'That app alone has saved us many times,' Steidinger says. 'Now, when our gear gets relegated to the closet, it's comforting to know we don't have to go in there with it."
More: www.allen-heath.com