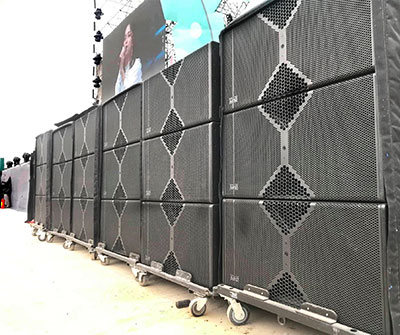 The Famous One Yeah Pop Up+ Festival took place in Xi'an during March, gathering China's music pioneers from electronic music and rap, as well as Chinese traditional styles, cool street ball and B-box.
After careful consideration, the event's organiser chose a Next-proaudio sound system, which was supplied by Real Music Acoustics, the local distributor for the Portuguese Manufacturer. 'The electronic music sound effects were controlled fantastically and the sound pressure with the LA212x line array was really amazing, allowing all the audience to have a fantastic music experience' reports Real Music CEO, Richie Wang.
The overall set-up comprised more than 120 Next-proaudio speakers, with main hangs of Next-proaudio 's flagship product line array series – 15 LA212x elements per side, and 18 LAs418G per side stacked in front of the stage. A further nine LA212x boxesper side served as out fill, with 12 wide angled LA122w used for front fill. Three LA122w with an LAs118 were mounted on each side of the stage as side fill. In addition, 16 X15 point-source speakers were used as stage monitors.
The entire set-up was powered and managed via N-Rak touring racks with Powersoft X8 amplifiers.
More: www.next-proaudio.com