The Italy headquarters of IT giant Epson are located in a prestigious building in Milan – called the Business Demo Center, it both customers and dealers the latest technological innovations from the Japanese innovator. To make demos of the products on display more authentic, 'real-life' settings relevant to the devices' use are recreated in a large space designed by the architect Marco Ferrari, replicating a retail store, a home cinema, meeting rooms, workstations, and a school environment.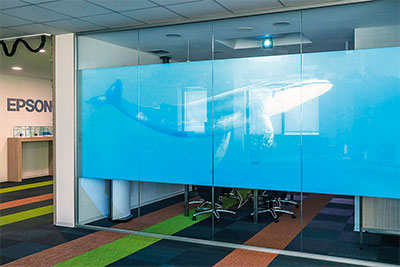 As a Business Partner for home cinema, distributors Exhibo SpA contributed by providing the sound system for this sector-specific area, where an Epson EH-LS100 video projector was installed in a lacquered wood cabinet alongside a practically invisible K-Array Azimut-KAMUT2L system, comprising Lyzard-KZ14 mini line array satellites and a low-profile KU44 subwoofer, powered by a K-Array Kommander-KA02 amplifier.
To welcome visitors to the innovative Demo Center in the best possible way, a video projection made with laser series Epson EB-L1000 projector on the entrance wall digitally mapped a waterfall immersed in the greenery of real wetlands with the audio solution comprising a pair of K-Array Anakonda-KAN200+ suspended on the walls, taking advantage of the loudspeakers' flexibility.
A K-Array Thunder-KMT12 subwoofer supplements the low frequencies, reproducing the rumble created by an avalanche of fasy moving water.
More: www.k-array.com