With a climate ranging from polar to temperate oceanic and humid continental, live production equipment has to endure challenging conditions in Norway, especially in the touring market. Production house Amas Produksjon Lyd & Lys is the country's first rental house to place its faith in Yamaha's Rivage PM7 system.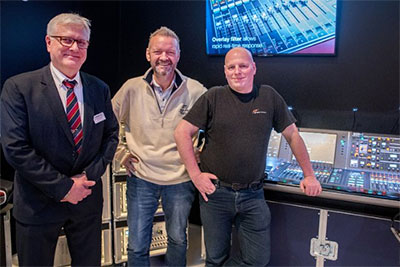 Based a short distance from Bergen (the rainiest city in Europe), the company is a long-term user of Yamaha mixing consoles: 'We have tried mixers from different manufacturers over the years, but we ended up using only Yamaha because the quality is so high,' says General Manager, Morten Egil Paulsen. 'We have never had a single crash or other issue with a Yamaha console, which isn't something we have experienced with other manufacturers products.'
In January, when the company's technical head Harald Hole mixed a festival on the island of Svalbard, midway between mainland Norway and the North Pole, with a Yamaha QL1 and Rio3224-D: 'It was bitterly cold outside, very warm and humid inside, but the console and I/O rack worked perfectly,' he reports. 'It's the only place in the Norwegian territory where you can meet a polar bear in the middle of a city centre.'
With Amas Produksjon's inventory of Yamaha CL, QL and TF mixers at work on many events, investing in Rivage PM7 allowed the company to increase its capacity and help to raise the standards of the Norwegian event market. Paulsen and Hole contacted Yamaha Scandinavia's Tomas Nylen and the new Rivage PM7 system was quickly put to work.
'Rivage PM7 is a flagship product, with many new and improved features, but it is still easily recognisable to anyone who has used a Yamaha console,' says Hole. 'The workflow is outstanding, it's easily the fastest console that I have ever worked on.'
'We like how we can customise the console layout and there is such a good selection of high-quality plug-ins that you can always find the right tools to solve any task,' he continues. 'We love the magic of the new DaNSe dynamic noise suppressor plug-in. We have also been really impressed by the RND Silk processing and the selected channel section is great. It really brings back the feeling of working on analogue consoles.'
Paulsen, Hole and the team have already received many bookings and enquiries for the busy summer festival season and are looking forward to showing the Norwegian market how Rivage PM7's enhanced facilities, backed up with Yamaha's legendary reliability, is a great festival solution.
'Yamaha consoles are a better long-term investment than mixers by other brands. Just look at the PM5D, which is still up and running worldwide, and we have an M7CL-48 that is still earning money for us. We are sure that Rivage PM7 will be at work with us for just as long,' Paulsen says.
More: www.yamahaproaudio.com