US FOH engineer/producer Peter Brzezicki has adopted the Waves eMotion LV1 Live Mixer, with a set-up that includes a 32-stereo-channel eMotion LV1 with double touch-screen displays, connected to a Waves SoundGrid Server One and DSPro StageGrid 4000 stagebox, connected to a DiGiGrid D portable desktop interface for a CD player or other such device at FOH. A MacBook Pro is connected to SoundGrid to run Waves Tracks Live, and an additional MacBook Pro runs a separate dedicated network to run Smaart Di v2 analyzer in conjunction with the Waves Tract System Calibration plug-in.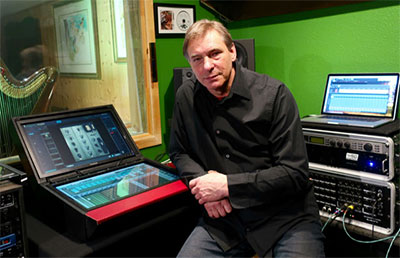 With 30 years' experience encompassing festivals, shows and smaller-scale touring, he has been working in established theatres for the past 15 years: 'I have to confess that for years I was missing something elusive, some "Christmas" in the sound,' he says. 'Then I started working with Waves plug-ins – it got better, but I was still missing something. The best way to describe it is that I was amplifying sound, but I could hear the amplification. The musicians and the audience loved it. However, I was still searching for that legendary sweet spot.
'Recently, I decided to focus my attention on the Canadian east coast/maritime theatre touring market with groups that travel to the east coast and do a series of concerts. I worked with these types of artists before at the Capitol Theatre in Moncton and at the Riverview Arts Centre for a number of years. It is obvious that some of them would benefit to travel with their own dedicated sound person. Their common complaint was that at every show, they have to start from scratch and explain everything to the crew, and the outcome to some degree varies from place-to-place. I wanted to contribute to the musicianship, to bring the audio on par with their talent and their unique artistic signature – in other words, bring that studio sound to a live production.
'This was when I began to investigate deeper into the technical end of the audio market. I decided that I need to meet these specifications: something portable that can travel with me, something that I can keep current for years to come, something in which the sound quality is unquestionable, something that meets the riders, something that will make the artist excited, and above all, something that I can afford without compromising on quality.
'In the end, I found that the Waves eMotion LV1 is the only logical solution for that task. I have to say that the combination of the LV1 and various plug-ins is without doubt a most powerful and enlightening experience. I found all of the loose ends that I have been missing. It's almost like having with me an entire studio set-up – and more – at a live concert. I say more, because with the setup of plug-ins come menus of presets created by the legends of modern sound engineering. It's definitely an enormous help to get things going. With such stupendous power to positively impact a performance, I don't even know how to begin to describe the confidence it brings to have that at your fingertips. My life and the lives of the artists I work with has changed – it's like Waves and LV1 blew the door wide open.
He presently owns the Waves Platinum Bundle, SSL 4000 Collection and the Chris Lord-Alge Signature Series, and calls the SSL E-Channel, CLA-2A Compressor/Limiter and Scheps Omni Channel as absolute must-have plug-ins.
'Do I recommend the system to everyone? The answer is no,' he says. 'If you're satisfied with "good enough", then the system is probably not for you. If you're serious and try to improve your skills, and you're not afraid of a learning curve and parting with your old routine, then this is absolutely for you. You can be sure that you will improve many skills. You will step into the future and also begin to experience a different relationship with the artists. You will be positively surprised with the speed and the excitement of learning the Waves sound. The combination of Waves hardware and software is the source of my joy and has already started translating into truly marketable values.'
More: www.waves.com