Recently equipped with an Audient ASP8024-HE mixing console, Somerset's Muddy Road Studios recently opened its doors to the public, giving local visitors a glimpse of what goes on in a professional studio – and one to their own Audient audio interface in an iD4 prize draw.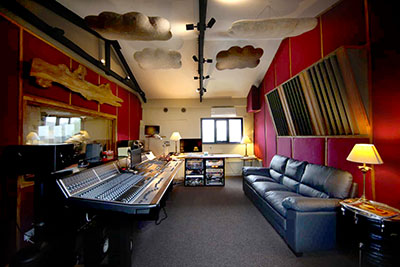 Owner James Willment has a clear vision for his new facility, which he describes as a 'residential recording studio and live venue', that comprises two studios, a live room, stage, separate large function room, bar and games area as well as residential accommodation. 'I love to help artists build their confidence and give their best – and offer the full service from recording and production right through to creating video and a website,' he says. 'It's not easy to be a 'free-spirited, creative musician and run the rest of the show when getting your music out there.'
Willment designed Muddy Road Studios to have a 'wow' factor. His 36-channel Audient console with patchbay and Dual Layer Control helps give it an edge aesthetically as well as sonically. The new desk keeps the company of ATC SCM25A, Yamaha NS10M Studio, Genelec 1040B and Avantone Active Mix Cube monitors, and an Avid ProTools 12 HDX system with three Lynx Aurora converters in the main studio. The outboard racks contain Avalon mic preamps; Drawmer, ART and Empirical Labs compressors; Bricasti and Lexicon reverb; and Manley and SPL EQ. The mic cupboard is equally well stocked.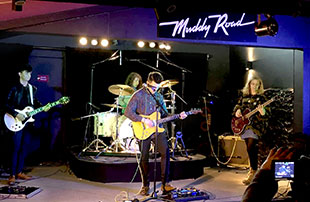 'In this day and age, everyone has a studio in their pocket in the form of their smartphone,' he says. 'Even commercial digital studios are realising that something is missing; they are having to put their mixes through a summing amplifier and as many valve toys or simulations as they can get, to warm things up and get some distorted harmonics and "natural dirt" back into their pure digital signal. This desk cuts the mustard on the way into Pro Tools and on the way out for mixdown. I have more than enough inputs to record a live session and extras for any overdubs. Plus all of my analogue outboard gear can be routed anywhere via a very comprehensive well laid out patchbay.'
Willment cites the built-in mix bus compressor and the flexibility and options on each channel' as favourite features: 'With 36 channels that's a lot of options.
Willment is taking advantage of the numerous inputs as well as the studios' ample space with his latest plan, Muddy Road Revue: 'Bands and artists can host events at Muddy Road by inviting fans, friends and family to their gig while being recorded and videoed,' he explains. 'Ticket prices could include food and drink – and would ultimately cover the band/artists' studio costs. An innovative way for artists to subsidise the costs of producing a showcase reel that they can use for promotional purposes.'
While developing his 'entertainment crowdfunder' idea, he's been targeting city-based musicians looking for a peaceful, creative space to get away from it all (Muddy Road Studios is located in converted farm buildings in the Blackdown Hills countryside), as well as forging links with Bridgwater & Taunton College more locally.
'I have been collaborating with the College to build up some work experience hours for students, by filming local bands on stage at Muddy Road Studios in and around the farm,' he says. 'Though the College has its own excellent facilities, there's nothing like getting off campus and out into real life situations.'
Which is exactly what they got last month: 'There were 16 college students working here on the Open Day – artists, sound engineers, videographers and video production.' He expects to have a few of these work experience days throughout the year with up to 30 students at a time.'