Founded in 1976 by pastor and author Dr Tony Evans with just ten members in his living room, Oak Cliff Bible Fellowship (OCBF) in Dallas has grown into a mission-driven mega-church of nearly 10,000 members. Its sanctuary seats approximately 3,284 people in a semi-circle with generous balconies and great sight-lines. With its existing audio, video, lighting, and acoustics outdated and failing, the church called in AVL integration firm Clair Solutions.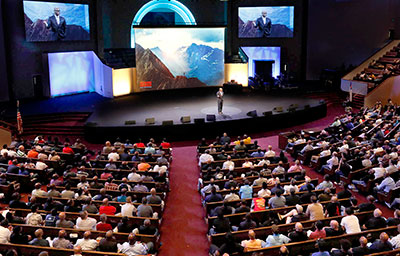 'The existing system had been installed in 1995, and it had many things going against it. Parts were failing and, even when it worked properly, it was no longer meeting the needs of OCBF's more contemporary services,' explains Clair Solutions' Dallas office Regional VP, Mike Mason. 'When it originally went in, the major requirement was speech reinforcement – most of the music was delivered via organ and choir. What they needed was a brand-new system that would take them to the technological cutting-edge, so they made the decision to gut everything and essentially start over.
At Clair Solutions, our unique strengths are working with clients to realise their vision and working with the other trades – in this case the architect and general contractor – to make the installation happen efficiently. At first, Oak Cliff just wanted a tech upgrade. But we realised that to even do a proper tech upgrade, we would need to bring in an architect to do some reconstruction. And if we were already committed to doing that, we may as well go all the way and build the system that will carry them through the next phase of the mission
'Importantly, we worked with the church to articulate its vision – we didn't impose any preconceived ideas about what should be done.'
Part of OCBF's vision involved bigger musical impact, and the engineers at Clair Solutions called on sister-company Clair Brothers for a line array comprised of C15 loudspeakers for mains and kiTCurves for sides, with low-end support from eight Clair Brothers CS218 subwoofers. The subwoofers form a cardioid array that pushes more low-end energy to the seats and less to the stage.
Lab.gruppen D-Series multichannel amplifiers with integrated Lake DSP power the system, with additional processing from stand-alone Lake LM44 DSPs. Studer digital consoles at FOH, monitors, and broadcast – with full Pro Tools recording and playback capabilities – provide user control for OCBF staff. Antelope digital clocks keep the entire system in reliable synch. Roland personal mixers and Shure wireless microphone systems deliver big improvements on stage.
Clair Solutions' acoustical engineer, Justin Graybill, flew to Dallas to take measurements on the sanctuary's sheetrock acoustics and then modelled it back at the company's Pennsylvania headquarters. Per his design, the installation team put in full acoustic treatments for the side walls and the back wall to help with reverberation and to minimize low-end build-up under the balcony.
'The goal was not to completely deaden the space,' Mason says. 'The 150-person choir is (and will continue to be) a big part of the service.' Instead, Graybill specified 2ft square diffusion panels for the side walls and broadband absorption for the back wall. Thus, the acoustics are controlled and strike a lovely balance between too energised and dead.'
On top of addressing issues in the main sanctuary, Clair Solutions also designed and installed a complete AVL system for OCBF's on-campus conference centre. The conference centre can function as one large 70ft x 120ft ballroom, or can be divided with air walls into three separate spaces.
Crestron digital media inputs and outputs allow any source to connect with any destination. Clair designed the conference centre system so that it could receive or send audio and video signals to the main sanctuary, allowing for overflow or sophisticated parallel events. A smaller Clair Brothers kiTCurve line array with Lab.gruppen amplification and processing make the conference centre concert-ready.
'Throughout the installation process, we were very accommodating of the church's needs and they were very accommodating of our realities,' Mason says. 'It was understood that we took control of the sanctuary at 7am Monday morning, but we turned it back over to the church at 3pm Friday. They used a rental PA system, but the old projector screens were in a different location than the new LED screens, so we were able to keep their old video system in place throughout the process.
'That said, there were also times where we had to leave things in a less-than-perfect state. For example, we had to leave 100ft x 20ft of scaffolding on stage. The church just draped some cloth over it and went with it. We began the work shortly after Christmas and finished in time to debut at Easter – across all those weeks, they never missed a Sunday service in the sanctuary.'
'I love working with Mike [Mason],' says OCBF Media Director, Walter Silverberg. 'He is deep inside our issues and really understands what we're about. Our audio and video systems make extensive use of the in-house Ethernet network, and we recently had some inexplicable issues pop up. Mike correctly diagnosed the problem to a change that our IT department had recently made, and he helped out at a meeting between the media department and the IT department to resolve the issue.
'With Clair Solutions, we get deep support. The company expects its systems to work well and to adapt, and they go to great lengths to make sure we are completely comfortable with our technology.'
More: www.clairsolutions.com