Remotely broadcast live from the Kobe Steakhouse in Seal Beach, California, once a month, the weekly Breakfast with The Beatles has provided an entertaining and informative Beatles-themed way to start Sunday morning for more than 30 years. The show content ranges from a host and guest up to a full on-air jam session – now handled by an Allen & Heath ZED series mixer.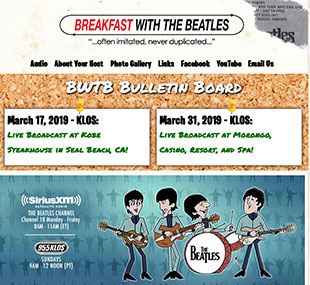 After searching for a compact and flexible console solution for the recurring remote broadcast, he came upon the ZED60-14FX and has been using it as the central audio hub for the show for the last year. The live mixed audio from the Zed is fed into a Telos Zephyr and then back to the radio station via ISDN.
The radio station's ability to tap into the Zed's high impedance direct inputs is just what veteran show engineer Steve Cormier needs: 'Having onboard reverb means that with one piece of gear I'm all set,' he says. 'Even with the number of live show surprises that get thrown my way, the Zed handles it and always sounds really good.
'Working with a British company and being a Beatles fan and an Anglophile myself, this product application was especially cool to hear about,' says Allen & Heath US Marketing Manager, Jeff Hawley. 'It is wonderful to see Zed selected for such a high-profile and iconic radio broadcast, and it is an honour to be the console of choice for Steve and the 'Breakfast with the Beatles' team.'
Hosted by noted Beatles fanatic, disc jockey and producer Chris Carter, Breakfast with The Beatles began in 1976 on WIOQ in Philadelphia and found its current radio home on Los Angeles area's commercial rock station, 95.5 KLOS, in 2006.
More: www.allen-heath.com