When Yoido Full Gospel Church – South Korea's largest Pentecostal Christian congregation of more than 800,000 members – needed to replace the amplifiers driving its sound system, Audio specialists and Powersoft distributor Dasan SR, proposed Powersoft's X Series amplifiers to manage its high channel count and complexity.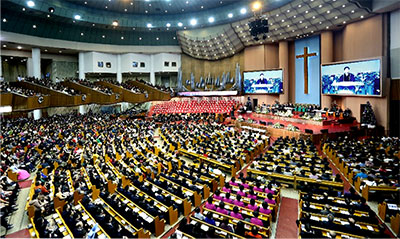 Dasan SR Technical Manager Changyu Choi specified seven X Series tour-grade systems to drive the church's EAW KF750 three-way cabinets and KF755 down fill array modules. The PA is comprises main, down fill, front fill and under-balcony speakers, as well as a delay system, choir and side speakers.
Flexibility and stability were important, but Powersoft's performance and price won out over two other contenders. 'The key, however, was the greybox support,' Choi says.
Powersoft's DSP+D amplifier platforms natively read and load EAW greybox presets, aligning the loudspeakers with the technology within the amplification. Powersoft's ArmoníaPlus facilitates the simple process of system management, uniting the loudspeakers with universal switch mode power supplies with Power Factor Correction (PFC) and class-D technology
The system installation was carried out with no disruption to worship, as work continued either side of the service day. Once the space-saving, 2U-high, eight-channel X4s were in place, a Dante network was created to alleviate the use of the existing DSP. ArmoníaPlus then took the reins and tuned the entire system. Armonía handles monitoring of the amplifier and speaker status remotely, which is useful when the distance between the amp room and the FOH is too great – as it is in Yoido Church.
The system set up and tuning was all handled by Choi and was 'very intuitive', thanks to Armonía. He also found the X4, 'assisted greatly with installation and adjustment'. Choi worked with Yeouido's sound engineer, Joung Kim to organise the input and output channels and to stabilise the system. 'The Powersoft products are very stable and reliable,' Kim says. 'The control of the system now is very simple, with no need to manipulate the system at all now the set up is complete. Power on/off is available remotely which is very convenient and all we need to do is monitor the system status.
'That the amplifiers support their own Dante network is invaluable as it now bypasses the original network. I'm very happy with how the installation went. The Powersoft X Series is designed with excellence and the hardware is very stable. The next important install we do here will definitely by with Dasan SR and the specification of Powersoft was the right choice for us.'
See also:
Seoul's Yoido Full Gospel Church places faith in DPA