With its unique setting and ambiance, Iris Lebanono is an open-air city club in the New Waterfront district in Beirut. Its amazing city views – especially at sunset – make it one of the most-visited rooftops in the city. Appropriately, the nightclub demanded excellent sound coverage able to deliver dance music and accommodate live performances including professional DJ sets without spilling over to other downtown buildings and without compromising the design of the venue.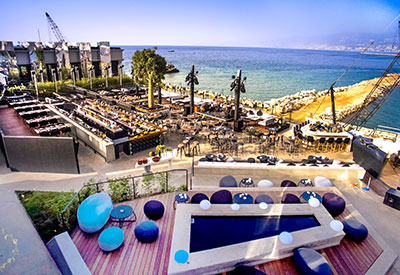 After experiencing success in the club's Bahrain location with K-array, it became the clear choice again as the audio solution to the club management, with Middle East distributor Procom supplying, installing and commissioning the installation, and following up with technical support to ensure the project is fully covered.
The sound system comprises 22 compact coaxial 12-inch K-Array Dragon-KX12 point source loudspeakers arranged in an array configuration, supported by three Thunder-KMT218 self-powered and ultra-light dual 18-inch subwoofers and two Thunder-KMT21 I high-power 21-inch subs.
The venue owners also requested to extend the sound coverage and quality of the sound to the restroom areas, and opted for K-Array Tornado-KT2LC in-ceiling loudspeakers with built-in DMX lights.