Lawo has finalised a cooperative agreement with Stuttgart Media University (Hochschule der Medien/HdM) to develop joint projects in TV production.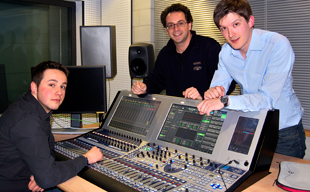 With its HDTV studio renovated, students at HdM have the opportunity to work with one of Lawo's mc²56 consoles – another digital mixing console is already in use in HdM's recording studio. 'This addition will greatly benefit our potential in the area of television audio,' says Axel Hartz, professor of TV technology for HdM's audio visual media programme.
And with the new partnership, there will also be improved possibilities to cross the bridge from theory to practical experience: 'We believe that a university programme centred around television media should be well founded and run as close to real-world applications as possible,' explains Hartz. In addition to training and demonstrations, Lawo has agreed to provide specialists for a Television Production Studio seminar. 'This presents a great opportunity for our students to observe and work with professionals,' he says.
Television production has been an integral component in HdM's audio visual media curriculum for more than 30 years. In the past, students and instructors worked in film and video studios. Today, everything revolves around television's HD future – 240m² of studio area are available for the digital production of live broadcasts, magazine programmes, or concert recordings, while audio for film production is created in three digital recording studios.