The old-school studio run by guitar and bass player José Luis Fernández has recently installed an Audient ASP8024 Heritage Edition mixing console – the first to arrive in Argentina.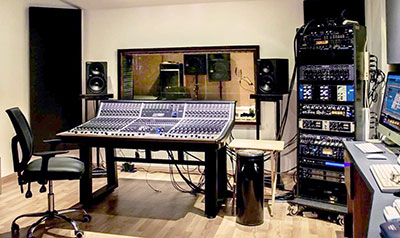 Best known for playing alongside Charlie Garcia in 1970s Argentine rock band, La Maquina de Hacer Pájaros, Fernández has been getting to know his new desk since its arrival: 'I could not imagine a studio without a console, I am an analogue guy,' he says. 'All the benefits of analogue are very important when tracking, with respect to the cue and communication with the musicians. The Heritage does it very well.
'The first time I heard Audient was some years ago in a studio in Spain, a band I played in at the time was recording there with a classic ASP8024,' he continues. 'I was quite impressed by all the features, even though It was the old model. Recently, I had been looking at a small API console. I had liked the sound enough, but I missed all the benefits that a great console offers. When the guys from Planeta Analogico [the official Audient distributor in Argentina] told me they could get me the new Heritage edition, I had no doubt.
'One of the things that impressed me the most about the console is how silent it is. You can have all the faders up and you do not hear any hiss on the monitors. Also having inserts on the tape and in the mic/line separately with its respective switch is a great feature,' he adds.
Also a composer and producer, Fernández' outboard gear centres on high-end names including Neve, Manley and API. 'I always used these devices in my DAW but I was never happy with mixing in the box,' he admits.
Despite this, it was never his plan to have his own studio. It was more a question of needing a place to put all the gear he'd 'accidentally' accumulated over the years: 'When I moved into the new house I realised I had a lot of stuff that just wasn't going to fit into my living room. So I had to build a special room for it all.
'For now we are finishing the wiring after which I will have to rethink the headset monitoring system so everything works great.'
Having known him for many years, Daniel Paracha from Planeta Analogico confirms Jose Luis will 'only settle for the best'.