The purchase of a sizable inventory that includes al-4 and al-8 line array systems has signalled the addition of full-service event management company Vario to Vue audiotechnik's US partner network. The new Vue line arrays are expected to bring new opportunities to the San Diego-based operation.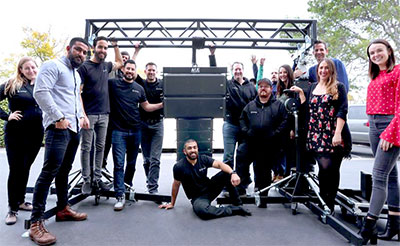 Vario was formed by partners Tim Altbaum and Eric Mueller, who previously operated independent companies in the territory. In 2015, the duo pooled their resources and expertise to serve an expanding client roster and move into larger and more diverse production work. Now, they have production capabilities for everything from outdoor festivals to corporate galas, keynotes, and even fixed installations.
With this purchase, Vario joins a expanding US network of al-Class partners that, in recent weeks, has also welcomed Myers Concert Productions in Nashville, Harmony Event Productions in Santa Fe Springs, and Metro New-York/Tri-State Dynamic Productions.
According to Vario owners Altbaum and Mueller, there were two main objectives driving the Vue purchase. First, they wanted to address larger and more demanding productions with sound quality that would appeal to national talent. Second, they needed a highly versatile inventory capable of further extending their reach into a broad mix of event types and sizes.
'We looked at all of the major brands – six or seven of the most recognizable names in the business – but Vue instantly stood out in terms of versatility and output,' explains Vario Director of Operations & Staging, Lucky Pathak. 'We can literally mix the al-4 and al-8 elements together into hybrid configurations while the acoustic line and voice remain fully intact. This versatility allows us to easily scale up or down as needed and helps us cover 95 per cent of our projects with an all-Vue configuration.
'I'm also really impressed with how the cabinets sound in terms of flat line EQ. It's a true "clean slate", with tons of horsepower and a near limitless top end. I notice this most in the al-4 because it's physically so small, yet the output seems almost boundless by comparison.,
For Vario President and co-founder Mueller, post-sale customer service was also a critical factor that pushed him squarely into the Vue camp: 'Vue is right in our back yard. Throughout this entire process, we've had amazing access to everyone on the team, regardless of title. From the designers to the owners, the support has been very high level and very personal. The 'family feel' at Vue really resonates with us because that's how we operate our own business. It's a good alignment of cultures.'
'Vario is exactly the type of team we look for – disruptive, energised, and willing to look beyond the status quo to differentiate and build their business,' says Vue COO, Sara Elliot. 'Tim, Eric, Lucky and the whole Vario crew recognised immediately that our systems are designed for professionals exactly like them. Those who need tools that enable growth potential while delivering memorable performance advantages that 'wow' clients and help their business stand out. We're excited to partner with Vario and help them take their business to the next level.'
Vario's new Vue inventory includes both al-4 and al-8 line array systems, hs-28 ACM Subwoofers, and VueDrive Systems Engines. Vario quickly deployed the al-Class line arrays at a well-known Fortune 500 company's internal meeting for 1,500 attendees. Next is the San Diego Beer Fest, followed by corporate events and conferences.